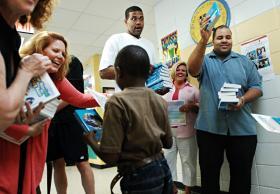 Augusta South Rotary Club, former athletes give dictionaries to 550 pupils
Joretta Akpo-Sanni is for anything that will promote learning in her students.
`This shows that the community is working together and partnering with education,` said Akpo-Sanni, Barton Chapel Elementary School`s principal, about a special presentation at her school Monday.
Members of the Augusta South Rotary Club and former Augusta State University basketball players Garrett Siler and Ben Madgen presented about 550 Barton Chapel pupils with child-friendly paperback dictionaries and coloring books about Rotary International.
The Four-Way Test Coloring Book teaches children the four questions that are the hallmark of Rotary International: `Is it the truth?` `Is it fair to all concerned?` `Will it build good will and better friendships?` and `Will it be beneficial to all concerned?`
Literacy is important to members of the Augusta South Rotary Club, said Pam Lightsey, the club`s assistant governor.
`A lot of schools really need dictionaries, and for some of the students, they have none at home,` she said.
Lightsey said the club has also distributed dictionaries at Glenn Hills Elementary School, and it has received positive feedback.
`We get letters saying they learn new words, and they read it every night,` she said. `If it makes a difference in the life of one child, it`s worth it.`
The major fundraiser for the club is a spaghetti dinner, which was held this year in February. Cassandra King, the wife of author Pat Conroy, was the featured speaker at the Feb. 4 event. The dictionaries have a list of presidents and biographies, the U.S. Constitution, the Declaration of Independence and a guide to the 50 states with a map showing the location of each one.