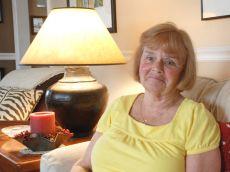 'D' is for dictionary, dedication
A dictionary may not top many wish lists, and a book might be as glamorous to an 8-year-old as a pair of socks, but many Barstow area third graders have been able to discover the meaning of words because of Jan Morrow.
Even though her children are grown, Morrow still treasures the words of Maurice Sendak and Shel Silverstein. She remembers reading Dick and Jane and Spot as a kid, and how excited she got when her grandparents placed a new book in her hands.
Now, Morrow doesn`t go anywhere without a book. She has read to neighborhood kids in the past and taught Spanish-speakers to read at the library. It was Morrow who brought the Dictionary Project to Barstow almost seven years ago. Since then the Barstow Rotary Club has given about 7,000 dictionaries to local third graders.
`It`s amazing how they light up when you give them a dictionary,` she said. `I`ve gone through my life and I thought what would I do if I didn`t enjoy reading. It really is a gift.`
Morrow came to Barstow in 1965 with her husband, a Marine who was killed in the Vietnam War. She raised five children and worked at the ConTel phone company until she retired in 1996, and joined the Barstow Community Hospital auxiliary in 1998. She`s been treasurer of the hospital`s auxiliary for two years, and was installed as president of the San Bernardino County Council of Hospital Volunteers Wednesday. Morrow also won the 2009 Woman of the Year Award at this year`s Barstow Area Chamber of Commerce Community Awards banquet Jan. 23.
Morrow spearheaded the Barstow Dictionary Project, said John Rader, spokesman of Barstow Community Hospital and Barstow Rotary member. Rader nominated Morrow for the Woman of the Year award and said that Morrow has also helped raise thousands of dollars for scholarships through the hospital`s auxiliary.
`Jan truly believes in `service above self," Rader said, quoting Rotary`s motto. `She wants to stay out of the limelight. She doesn`t want credit for good deeds she does.`
The Dictionary Project is one of Rotary`s major claims to fame, said Andy Ziemer, owner of Ziemer Plumbing and 2002 Rotary president. Ziemer, who said he went to school with Donna Gregg, Morrow`s daughter, remembers helping his father fix Morrow`s plumbing when he was 10 years old.
`I would carry the tool box for my dad,` he said. `To this day Mrs. Morrow is one of our favorite people to work for. I think (the award) is well deserved.`
Walking up to the podium to receive her award and give her acceptance speech felt like an out of body experience, Morrow said. She described it as surreal. But helping others is truly what she loves to do, she said.
`I`ve raised five kids, now I get to do the things that I want to do,` she said. `I`m fortunate to be able to have the time and energy to do what I love.`