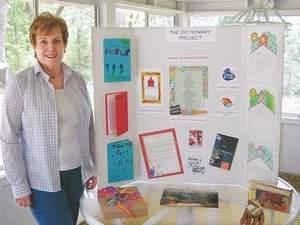 Dictionary Project defines county children's future
Editor`s note: Judy Payne, of Nevada County Republican Women Federated, is excited about the group`s work on The Dictionary Project because of its reach into our future — all at very low cost.
What is your mission?
The Dictionary Project is a nonprofit organization that works with sponsors throughout the United States to provide personal dictionaries for third-grade students.This aids third-grade teachers in their goal to see all their students leave at the end of the year as good writers, active readers and creative thinkers.Children keep the dictionaries and use them throughout their school years.This special dictionary is referred to as a Gazetteer, because it includes a comprehensive dictionary of more than 32,000 words and important information to add to the children`s knowledge: Tables of weights and measures, the Declaration of Independence, the U.S. Constitution, maps of the continents, information about the 50 states, biographies of the American presidents, facts about the solar system, and other items of interest.
What is your yearly budget, and how many paid employees do you have?
Locally, the annual budget is about $1,200 yearly, depending on the number of third-grade students. All of members are volunteers from Nevada County Republican Women Federated.The entire cost of the program is borne by the NCRWF and local contributors.
What is your nonprofit`s history?
The Dictionary Project was founded in 1995 and is international in scope. Its motto is, `Reading makes a country great.`
Who is your primary audience?
All third grade students in Nevada County schools.
List your biggest achievements.
Since 2006, Nevada County Republican Women Federated has distributed 3,504 personal dictionaries to every third-grade class in Nevada Country, at no cost to the schools.
List your biggest challenges.
Raising funds. We are fortunate to have support from our members, the community and businesses in western Nevada County.However, with the economic downturn, this challenge becomes more daunting each year.
What is your major fundraiser?
Our major fund raiser this year was a luncheon, raffle and silent auction at the Alta Sierra Country Club June 15. Local merchants donated wonderful items.
What is the best way to help?
If you are a parent, grandparent, teacher or friend, get involved. These children are our future generation and will become our leaders. This special gift will give them the opportunity to gain the knowledge they need to go forward.
Dictionaries cost about $1.70 each. A donation of $42.50 would be enough to sponsor a third grade class (average 25 students), but any amount, large or small, would help The Dictionary Project succeed.
We would love to have you help us distribute these dictionaries to the class of your choice — just to see how much they are appreciated.