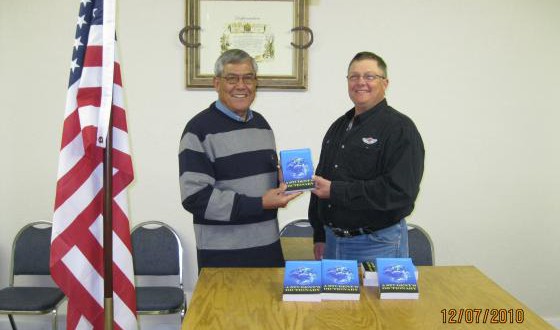 Elks lodges bring Dictionary Project to NE New Mexico
William Griffin, PDDGER, PER, David Gonzalez, and two other members from Tucumcari Elks Lodge #1172 travelled to Clayton Elks Lodge #2865 on December 7 and delivered dictionaries which will be given to area third graders. The dictionaries were funded by the PER Associations from Las Vegas Elks Lodge #408 and Tucumcari Elks Lodge. This cooperative project is just a small example of what Elkdom is all about. Not only doing for our own, but helping beyond our own.

Clayton Elks Lodge #2865 will complete the dictionary project in Union County. Dictionaries were presented to Clayton Exalted Dennis Hartsell in their Lodge Home on December 7 by David Gonzalez, PER and Northeast youth activities committee chairman, and Bill Griffin PDDGER, Tucumcari Lodge Secretary. Clayton Lodge will distribute 96 dictionaries to third-grade students in Des Moines and Clayton, NM, and also Felt, OK, which is 16 miles east of Clayton.