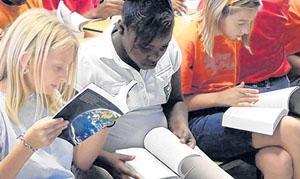 Fifth graders get dictionaries
Thanks to a generous Rotary Club and some creative teachers, fifth graders at Janie Howard Wilson Elementary School are learning to have fun with dictionaries.
JHW Principal Beverly Lynne coordinated the annual Dictionary Project for the Lake Wales Breakfast Rotary Club. The club donated about 175 dictionaries to the fifth graders at JHW and neighboring Spook Hill Elementary School.
Each year the local breakfast Rotary Club joins other Florida Rotary Clubs to ensure that all fifth grade students in the state receive a dictionary.
'These dictionaries are intended to be taken home for the student and family's use,' said Lynne.
During the presentation at JHW, teachers offered prizes for students who correctly answered questions about their dictionaries.
Reading Facilitator Dee O'Hern took students on a 'tour' of their dictionary, focusing on words as well as why the dictionary is so important. She introduced prefixes, suffixes and base words.
Math Resource Teacher Donna Borders targeted math terms and facts that can be found in the dictionary. She also highlighted maps and other geographical terms.
Writing Resource Teacher Amy Caraway Harris pointed out the world's longest words and challenged students to pronounce them.
The Frostproof Rotary Club recently handed out about the same number of books to all fifth graders at Babson Park Elementary School and Ben Hill Griffin Jr. Elementary School there.