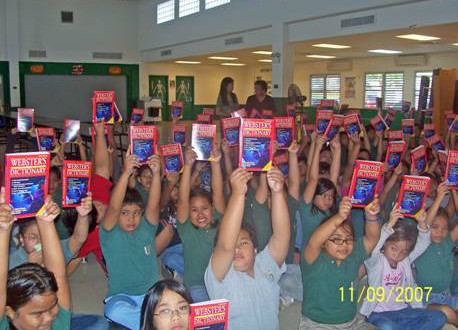 Guam and Micronesia Dictionary Project Report 2007
Phase 1
In the fall of 2006, a Rotary friend and former President of the Rotary Club of Northern Guam approached us about distributing surplus dictionaries from schools in Southern California to islands in Micronesia . John, is actively involved with the SoCal Dictionary Project.
With the assistance of Rotarian Carl Lindlau and his employer, DeWitt Transportation the 54 dictionaries were brought to Guam where they were repackaged in three boxes and shipped with the assistance of Rotary Club President Joe Rios and his employer, Matson Navigation, to the Rotary Clubs of Truk Lagoon, Pohnpei and Palau for distribution to libraries and schools in their respective islands. For those not familiar with the Northwest Pacific Ocean , the map below gives an idea of the distance that separates our islands from each other.
Phase 2
This small initial project encouraged the four Rotary Clubs on Guam join their efforts and present dictionaries to all 3d grade students in public schools on Guam in the fall semester. 2,557 dictionaries were presented to 24 schools on Guam . The Governor of Guam's wife, First Lady Joanne Camacho, participated in one of the presentations with Rotary International District Governor Sakamoto and District Governor Elect Shindo (RI District 2750) to third grade students.