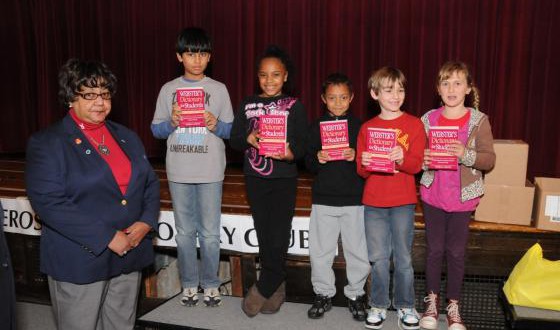 Maplewood Dictionary Project
Today at Tuscan Elementary School in Maplewood all the third graders received a free dictionary courtesy of the Rotary Club of Maplewood and the Rotary Club of South Orange as part of the Dictionary Project . In fact, all third graders in the school district, and in most of New Jersey, will receive free dictionaries this year thanks to their local Rotary Clubs.
The Dictionary Project started in 1992 in Savannah, GA when Annie Plummer gave 50 dictionaries to local school children. By 1997, the Dictionary Project became a non-profit whose goal was to give all third grade students in the country a free dictionary. Last year over 2,000,000 dictionaries were given away.
Why dictionaries? Why third grade?
Dictionaries are the first reference tool students use. One of Rotary Club International`s missions is to focus on literacy, since literacy is at the heart of poverty reduction and economic development. Owning a dictionary goes beyond just spell checking, it promotes self reliance and resourcefulness by `looking it up`. Third grade was chosen because by the end of the year, students should be better writers, avid readers and creative thinkers.
Before handing out the books, Rotary member John Mousseau had students point to a word on a open page. He then asked the crowd if they knew what the word meant. Over 100 hands went up. Some of the answers were spot on, some weren`t. But the enthusiasm continued as they received their very own copy. As the students filtered out of the auditorium, their heads were buried in their new book, looking up words and asking their classmates if the knew what it meant.
Original Article available at :
http://kids.baristanet.com/2010/11/the-dictionary-project/?pid=16