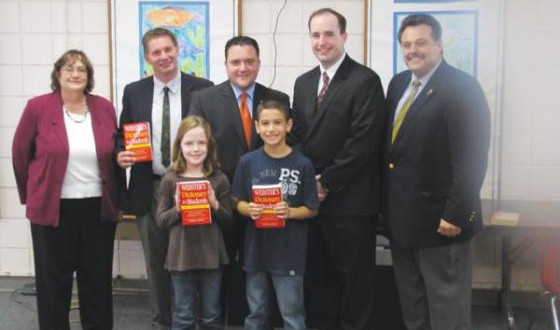 North Haven Rotary donates dictionaries to local third graders
In its sixth year of operating the local service club`s Dictionary Project, the North Haven Rotary recently distributed nearly 350 paperback dictionaries to public school students in the third grade throughout the community.
In addition, the youngsters at St. Stephen`s Elementary School in Hamden received copies, since the parochial school enrolls children from the area.
The organizer of the event, Brian Coughlin, explained that the club raises the funds through local activities. In total, 10 Rotarians spent time visiting the children over three days last week, with several taking the time to explain the origins of the text, as well as the value of developing a mastery of word meaning and usage.
Marissa, grandchild of Rotarian Mary Jane Mulligan, had a few well chosen words to describe herself. `I`m a straight 'A' student who`s compassionate and organized,` said the third grader at Green Acres.