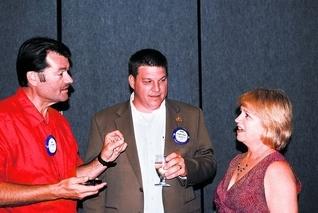 Organization of the week: Fallon Rotary strives to fulfill dream of helping others
One of Doug Drost's first announcements Tuesday as the newly-inducted president of the Fallon Rotary International service organization, was to introduce members to this year's theme, 'Make Dreams Real.'
Drost, a financial advisor at Edwards Jones, has been a member of the local Rotary group since 2004. He lives in Fallon with his wife, Shawn, and children, Hunter, 8, and Sydney, 7.
Embarking on his first year as president, Drost told the members he wants to focus on helping reduce childhood illness and mortality. The Fallon Rotary Club, part of District #5190, is renowned for giving locally as well as across the globe. The district is the largest in the contiguous U.S., with 53 clubs and 2,700 members.
Rotary is one of the local groups that is contributing toward Fallon's upcoming, The Big Read — a program intended to bring community members together through reading and discussing the same book, The Maltese Falcon. The Big Read is scheduled for Sept. 22 through Oct. 25, which will coordinate with the Churchill Arts Council's Classic Fall Film series. A kick-off event is planned for Saturday, Sept. 27 on the new Oats Park outdoor stage.
Other local organizations and projects Rotary supports include Fallon Daily Bread, the Dictionary Project, the Cub Scout troop, Relay For Life, the Boys & Girls Club, senior citizens' projects, Grad Night, DARE and school speech and music competitions. 'We will add more throughout the year,' Drost said.
The Fallon organization will choose a special project to do during the coming year's International Rotary Work Day, designated as April 25, 2009. Local Rotarians have participated in a variety of Rotary Foundation projects, often traveling thousands of miles to serve others.
Vic Slaughter, a past district governor for Rotary, went to India to help give oral polio vaccine to children in India, for instance. Another member, Karla Kent, went to Bolivia to participate in Rotoplast, a project in which medical professionals helped correct kids' cleft palates. Newell Mills traveled to Monterey, Mexico to deliver wheelchairs for the Wheelchair Foundation and Jenny Lumos recently went to Brazil as part of the Group Study Exchange, while Fallon hosted several young Brazilian professionals.
Fallon Rotary board members include Art Crowder, Steve Endicott, Dave Ford, Carolyn Ross, June Young, Jodi Brown, past president Sue Sevon and president-elect Dee Gregory. Member Judy Thompson thanked the group for their generosity during last month's Relay For Life. The Rotary team came in second of 30 teams that participated.
Drost said he would like Rotary to be 'the service club of choice.' To that end, he is challenging members to introduce new people to the organization by inviting them to a luncheon meeting.
'There has been a decline in membership over the last several years,' he said. 'We need to reverse this trend.'
Original Article available at :
http://news.rgj.com/apps/pbcs.dll/article?AID=/20080704/FALLON/807040359/1029
For more information, please contact :
Fallon Rotary meets every Tuesday, noon, at the Fallon Convention Center. For more information about Fallon Rotary, call Drost at 423-8552.