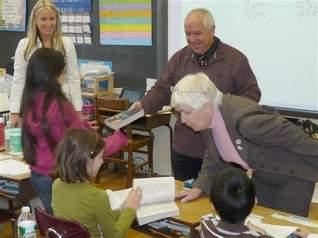 Plainfield Rotary Club presents dictionaries to third-grade students
Five teams of Rotarians went to the three elementary schools in North Plainfield and the 10 elementary schools and three charter schools in Plainfield during the week of November 15 to give a dictionary to every third-grade student. A total of 680 dictionaries were presented, including 180 Spanish-English dictionaries for the ESL students.
`Our Dictionary Project for Plainfield and North Plainfield school children is in its fifth year,` said Victoria Griswold, president of the club. `It is one of our most important and most successful community service projects because of its direct contact with so many young girls and boys in their classroom settings. All of our members feel the same, our hearts are warmed by the smiles and even cheers when we announce the gift and present the dictionaries to each student. This project is so important to the education of our children, and we are proud to play our part.`
The Rotary Club works with the schools and teachers to help make their students active readers, good writers, and creative thinkers. These dictionaries are a gift from the club to the students, and are theirs to keep, said club president Griswold. We stress that this book is an important tool that will serve them well throughout their education, and should be treasured.
The Rotarians take the opportunity to teach the children about service to the community, both local and worldwide.
`I like to involve the students by first asking for help defining `rotary` and `club`,` said Michael Townley, club secretary. Townley made the presentations to the Cook, Cedarbrook, and Evergreen schools in Plainfield. `After hearing some excellent responses, I have a student read each definition from the book. Then we talk about service, about what it means to be a Rotarian helping others, about Rotary`s efforts to eliminate polio.`
`Most children don`t know about polio, because it is not a disease we find in this hemisphere. That opens up a wider discussion about how Rotarians throughout the world have worked together to virtually eliminate this crippling disease. The discussion is a great opportunity for us to teach `Service Above Self;` to these young students,` Townley said.
The dictionaries are purchased through The Dictionary Project, a nonprofit created in 1995 in South Carolina. The Dictionary Project`s mission is to put a dictionary in the hands of every third-grade student in the United States. Since its founding, more than 14.4 million dictionaries have been presented to children across the U.S., with 2.49 million distributed in 2009 alone. More information is available at the Dictionary Project`s website at www.dictionaryproject.org.
The Rotary Club of Plainfield-North Plainfield, founded in 1921, has served the community for over 86 years. Members are community and business leaders in the area who meet weekly on Wednesdays at 12:15 pm at Giovannas Restaurant in Plainfield. Contact Michael Townley, club secretary, at rotarypnp@verizon.net for additional information about the Rotary Club, and its activities or to inquire about membership, or visit the Club`s website at www.rotarypnp.org.
Original Article available at :
http://www.mycentraljersey.com/article/20101121/GETPUBLISHED/11200355/Rotary-Club-Presents-Dictionaries-to-Third-Grade-Students