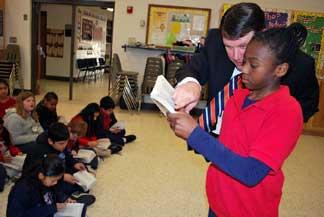 Rotarians nearing completion of dictionary project
Third graders at Lake City and Fountain elementary schools raced through their new dictionaries at their respective schools on Wednesday morning, in a race to see who could be the first person to find the definitions of 'service,' 'determination,' and 'appreciation.' The dictionaries were gifts from the Clayton County Rotary Club, which is undertaking a county-wide service project to put new dictionaries in the hands of third graders in the county. The club is going through all 36 elementary schools in the public school system, two schools a week. On Wednesday, it just happened to be Lake City's and Fountain's turn.
Third graders at both schools were taken into small assemblies, with no prior knowledge of what was to come. 'As soon as I found out they were giving out dictionaries, I thought I could study it right away,' said Lake City Elementary third grader, Isaac, 8.
The Rotary Club has been distributing dictionaries for the last two months, and is nearing the completion of the project, said Club President Michael Twomey. He added that there are 10 schools left to visit, and once every school has been visited, 4,700 dictionaries will have been distributed to third graders in Clayton County. 'At the conclusion of this project, every third grader in the county will have a dictionary, teachers and principals, too,' Twomey said. He added that third graders were singled out to receive the dictionaries because 'they start with vocabulary-building around that age.'
Twomey said he got interested in the distribution of dictionaries as a service project at the beginning of the school year, when he was invited by members of the Atlanta Airport Rotary Club to join them during the delivery of dictionaries to students in south Fulton County schools.
'At first, I thought this is outdated, kids don't use dictionaries anymore; they have computers,' Twomey said. 'Then, when I saw the reactions on the kids faces, I realized these kids really do use the dictionaries, I decided I wanted our club to do this as well.'
Twomey said he was initially met with some skepticism from Clayton County Rotary Club members, who, like him, thought dictionaries might be outdated. It took some convincing and explaining of what he saw in Fulton County, but the club members eventually decided to support the project, he said.
Atlanta Airport Rotary Club member Dennis Martino got the books for the Clayton County Rotarians from the Charleston, S.C.-based group, The Dictionary Project, whose aim is to put dictionaries in the hands of as many students as possible. Martino said he is working with The Dictionary Project to get more clubs to participate in the effort.
This year alone, Martino said, 20,200 dictionaries have been distributed in Georgia by local Rotary Clubs. The cost to the clubs, he said, is $1.25, to $2 per dictionary. Twomey said the Clayton County Rotary Club got a grant from Rotary Club International, and a financial donation from Chick-fil-A founder S. Truett Cathy, to help pay for the cost of the books.
While some people may believe dictionaries are antiquated, several teachers also said there is no question that students still use dictionaries, and the educators said they were excited about the fact that each of their pupils would now have a dictionary to call his or her own. Several students, according to teachers, do not have Internet access at home, so things like 'Google' and 'Yahoo!' are not necessarily an option. 'A lot of my students don't have their own dictionaries,' said Lake City Elementary third-grade teacher Cheryl Chamlee. 'They'll come up to me all the time and ask how to spell a word, or what a word means, and I'll say 'Do you see those little red books [a class set of dictionaries] over there, go borrow one of them and look the word up,' because they don't have a dictionary of their own to use.
'Now, they'll have one, and I think they'll make use of them.'
Fountain Elementary School third grader, Zymesha 9, said she plans to use her new dictionary often. 'I'm going to study it, like two days a week, probably more,' she said. 'I'm going to wear it out.'