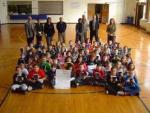 Rotary Club gives the gift of learning once again
Members of the Rotary Club of Pompton Lakes once again visited all four local elementary schools, distributing dictionaries to each member of every third grade.
As they have done each fall throughout the past decade, local Rotarians recently visited the Lincoln and Lenox elementary schools as well as St. Mary`s and Windsor School students.
`This is our club`s literacy service project and just one of the many community service projects we undertake each year for the benefit of residents and, in particular, the youth of our area,` said Phil Sohn, Columbia Bank financial services officer, who is chairman of the Rotary Club Dictionary Project.
Rotary Club President Mary Hamilton said, `This is such a wonderful project. The goal of this program is to assist all students in completing the school year as good writers, active readers and creative thinkers by providing students with their own personal dictionary. The dictionaries are a gift to each student to use at school and at home for years to come.`
Third-grade students are chosen to receive the gift of the dictionaries, Hamilton explained, because, `educators see third grade as the dividing line between learning to read and reading to learn.`
Taking the opportunity to visit each school and spend some time with these students is important to Rotarians, Hamilton said.
`The Rotary Club of Pompton Lakes is committed to the youth of our community, and the greatest percentage of our resources is so directed,` she said.
That commitment takes the Rotary Club beyond the Dictionary Project to a variety of other contributions to students, such as awarding annual scholarships to graduating Pompton Lakes High School students, supporting the cost of insurance for the PAL basketball program for students, and sponsoring selected PLHS juniors` attendance at the Rotary Youth Leadership Award conference at Bryn Mawr in Pennsylvania for one week each June.
`Every year, throughout our more than 50-year history in Pompton Lakes, as the need arises, we stand ready to assist families with children who are in crisis and need some financial assistance,` Hamilton said.