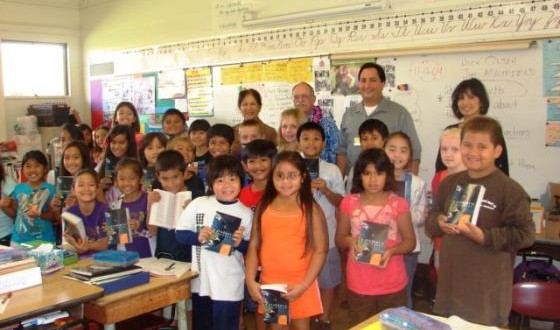 Rotary Club of Kauai annual dictionary give-away to the third graders at Wilcox Elementary
Greeted by purple orchid leis, members of The Rotary Club of Kauai returned today to Wilcox Elementary School to present each of the third graders with their own dictionaries. Each of the classes, taught by Janice Smith, Caroline Freudig, Megan Nii, Ann Keeler, Cynthia Swain and Irene Isonaga were filled with eager, disciplined students. Many of the students already knew about the annual dictionary give-away as their older brothers and sisters had received their copy in prior years. Upon receiving their dictionary, each of the students printed their name and home room number inside the front cover. Then, with the assistance of the teachers and the four Rotarians, President Dick Olsen, Paul DeCosta, Hope Chihara (mother of one of the students) and Jim Mayfield, each of the students was asked to find their first word, Truth. The Rotarians explained that the first part of their motto is, `Is it the Truth…` and why the word Truth is so important whether you are as old as their parents or as young as each of these students. The presentations ended with the Rotarians pointing out the additional features of the dictionary including the names of the continents, planets, countries, the longest English word and a number of other facts of interest to these inquisitive third grade students. As the Rotarians left each class, they walked away with great memories of the smiling students and reminders of why they choose to be Rotarians.
For anyone interested in becoming a Rotarian, you can find out more by checking out their web page at www.rotary.org or joining the Rotary Club of Kauai each Friday at lunch from 12:00 p.m. to 1:00 p.m. at JJ`s Broiler, second floor in Anchor Cove Shopping Center, or any one of the other five Rotary Clubs, from the West Side to Hanalei, active on Kauai.