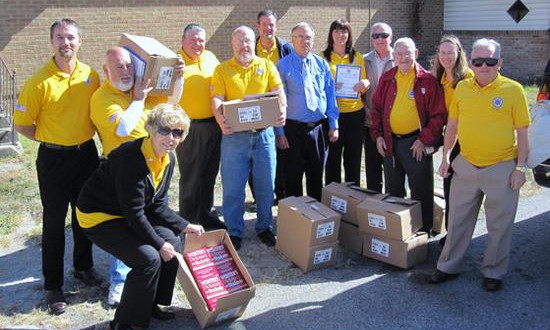 Rotary Dictionary Distribution
In a joint project with the Wabash Valley Community Foundation, the Rotary of Brazil worked to boost reading and comprehension of written words for local third grade elementary children by giving students and teachers a personal copy of the Webster`s Dictionary for Students. Dictionary distribution began on Wednesday, Oct. 20, after lunch at the Elks Lodge.
Picture #1 Caption:
Assisting were (left to right) Rotarians Rob Dispennett, Richard Dierdorff, Mary Jo Alumbaugh, Duane Butt, John Lee, Dictionary Project coordinator Sam Glover, Mike Petersen, Lena Khudayeva, Frank Farmer, Kenny Crabb, Club President Dr. Miranda Goodale and Denzil Adams.
Picture #2 Caption
Here pupils in Ms. Gilman's Cornerstone Christian Academy third grade class are joined by Rotarian Susan Thomas as they hold up their new dictionaries.