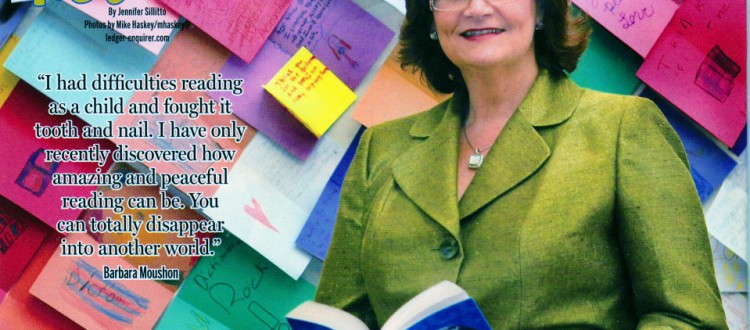 Sponsor profile: Barbara Moushon
Photos by Mike Haskey / mhaskey@ledger-enquirer.com
BARBARA MOUSHON
Her job: Executive Director of The Literacy Alliance
Her background: Barbara was born in Greenville, South Carolina, but grew up in Columbus. She graduated from Brookstone School and attended Auburn University. After moving away for 15 years, Barbara returned to her roots to raise her family.
As the executive director of The Literacy Alliance, Barbara works to help the non-profit organization meet its mission: to address the gaps in literacy services in the Chattahoochee Valley region. (www.theliteracyalliance.org)
In addition to supporting the Muscogee County School District's Adult Education Program, two of The Literacy Alliance's programs are focused on young children: Kindergarten Readiness, which targets Muscogee County Pre-K students who need help building their vocabulary; and The Dictionary Project, a motivational program designed to help capture the imaginations of third grade students in the Muscogee County and Fort Benning School Districts and give them dictionaries to use as their own personal reference books. "We also have a pilot program at Jordan High that is designed to reward good choices, which ultimately lead to better grades and increased graduation rates," Barbara said. "We intend to show that rewarding good choices can have a tremendous impact on students."
Much of the work accomplished by The Literacy Alliance is done by volunteers. "Our favorite saying, 'Create the desire to learn,' has become an integral part of our daily operations," Barbara noted. "In everything we do, we try to do it with joy and respect for the people with whom we are interacting."
Barbara and her husband, Brian, have been married for 15 years. They have a daughter, Victoria, who is a middle school student.
Her favorite aspects of her job: "The amazing people I meet," Barbara responded. "Doing The Dictionary Project presentations is also amazing. After these lively and interactive programs, I get hugs and high fives from many of the children!"
Some of her favorite pastimes: In addition to spending time with family, Barbara enjoys painting, making jewelry and taking photographs.
Her favorite types of books: "Those about friendship and with unexpected romantic love stories mixed in," Barbara said.
Barbara Moushon's Favorite Reads
A Student's Dictionary,
Printed for the Dictionary Project
"The dictionary we give the third grade students is my all-time favorite book," Barbara, who children often call "The Dictionary Lady," said. "I knew that they needed them, but I had no idea how much they would love them. If you want something especially good to read, come by my office to see a handful of the colorful thank you notes we have from the children. The joy I get from the experience of this program is indescribable."
Nurse Nancy,
By Kathryn Jackson
$3.99 (Hardcover)
"This is the first book I remember," Barbara said. "I really related to Nancy because she had older brothers like me. I was excited to find it still in print so that I was able to enjoy it again with my daughter."
The following description of Nurse Nancy was written by its publisher, Random House Children's Books:
Many people fondly remember this book. Nancy loves to play Nurse, but her older brothers are always too busy with their big boy games to play with her. One day, when brother Billy falls and hurts himself, Nurse Nancy is at the ready to help him with real plastic bandages! This lively, charming book from the 1950s is still fresh today.
The Five People You Meet In Heaven
By Mitch Albom
$12 (Paperback)
"This book is so simple, so beautiful and gives a powerful glance into the importance of any life," said Barbara.
The following description of The Five People You Meet in Heaven was written by its publisher, Hyperion.
Eddie is a wounded war veteran, an old man who has lived, in his mind, an uninspired life. His job is fixing rides at a seaside amusement park. On his 83rd birthday, a tragic accident kills him as he tries to save a little girl from a falling cart. He awakes in the afterlife, where he learns that heaven is not a destination. It's a place where your life is explained to you by five people, some of whom you knew, others who may have been strangers. One by one, from childhood to soldier to old age, Eddie's five people revisit their connections to him on earth, illuminating the mysteries of his meaningless life, and revealing the haunting secret behind the eternal question: Why was I here?
Editor's Note: Nurse Nancy and The Five People You Meet in Heaven are available at Barnes & Noble in Columbus Park Crossing (706) 653-7880.