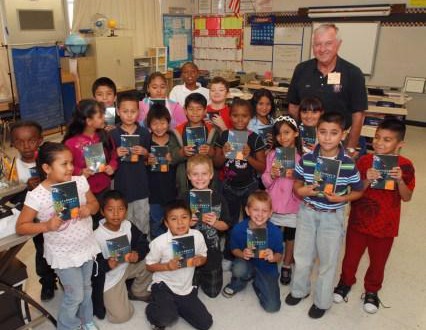 Vacaville Elks Lodge dictionary report
Vacaville Elks Lodge #2638 Dictionary Project for the 2009 Year has been completed. There were 18 schools visited and a total of 78 classes visited.
Through your generous monetary donations from submission of monies with your dues, the `BIG` karaoke fundraising night and dinner with raffle, we raised enough money to buy one thousand eight hundred dictionaries. There were a total of 1,768 dictionaries delivered to the third graders of the Fairfield/Suisun School District and the Holy Spirit Catholic School.
Bob Meador, Pam Pianfetti, and your next year`s Dictionary Project Chairperson Suzanne Pederson helped me deliver some of the dictionaries. Please talk to them about their experience in helping with this Project.
It has been a wonderful project for me personally over these past years. Knowing that we have enriched the lives and enhanced the learning skills of so many third graders is very heartwarming and fulfilling. We all have experienced and enjoyed the letters of `thank you` from every child, yes every child, the teachers, and principals in the Fairfield-Suisun School District in the past.
I am again at this writing, receiving the multitude of letters from all of this year`s third grade students. I read each and every one of them and cherish them all.
I want to thank and acknowledge Isabel LaValle for each and every year she has put together a collage of the letters received and displayed them at the Lodge for all to read and see.
To continue this great project, it takes money. I know that all of our members will once again come through with the needed funds for this project in 2010. Please support Suzanne in her efforts to raise the funds needed. As she asks for your support, you will know it is going for a wonderful cause, the future of tomorrow are the third graders of today.
To experience the joy and exuberance of these children receiving your donated Dictionary is priceless.
Thanks again for all the support you`ve given me in this Project.
John Holsapple, Dictionary Project Chairman