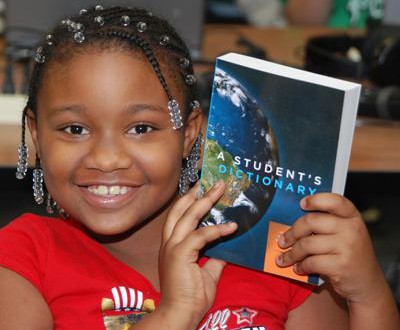 Aiken county students get to take home dictionaries from Rotary
Perhaps it's just a little ironic: East Aiken Elementary School third graders received dictionaries from area Rotary Clubs Wednesday while sitting at workstations with laptop computers.
'You hear about computers replacing books,' Aiken Superintendent Dr. Beth Everitt said. 'But they're going to write their names in their books and take them home. Nothing replaces a book in their hands.'
Dictionaries are being distributed this week to more than 2,000 public and private school third graders in Aiken County through the annual project of three clubs: Rotary Club of Aiken, Aiken Sunrise Rotary and the North Augusta Rotary Club.
Everitt, an Aiken Rotary Club member, was joined by three other club members, Project Coordinator Dave Griffin, S.C. Rep. Tom Young and Dean Sackett. Young also gave a talk about the State House and the S.C. General Assembly.
The kids were excited about their gift of a dictionary, among them Hayley and Jailyn. Hayley pointed out that she could write her name in the book in two different places.
'Sometimes I look up words on the computer,' Jailyn said with a big grin. 'This is the first dictionary I ever got in my whole life.'
Sackett said there are more than 1 million Rotarians around the world, and many of them are helping with the dictionary project.
'Each of you is very important to us, and your education is important to us,' he said. 'We would like you to have a dictionary of your own, and your teachers and librarians will help you understand how to use it.'
Griffin found it rewarding to watch the children's looks of surprise and pleasure when they realized they could keep their dictionaries.
'There are many books in the world, but this is a special book,' he said. 'It's the key to unlocking doors to learning, and the kids are old enough to understand that.'
Principal Mary Robinson appreciated that the books include a label with Rotary's '4-Way Test,' which states questions in part: 'Of the things we think, say or do, is it the truth? Is it fair to all concerned?' The 4-Way Test fits in with East Aiken's emphasis on character education, Robinson said.
'The kids are just delighted to receive the books,' she said. 'The Internet is wonderful, but you can't do without books in print.'