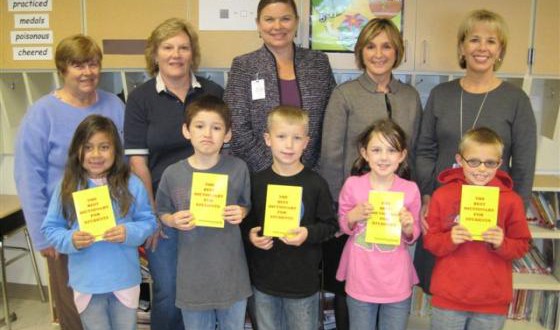 Arlington groups provide dictionaries to local third graders
Dictionaries were donated to the third grade classes of Arlington, Lakewood and Darrington on behalf of the Kiwanis Club of Arlington and the Friends of the Arlington Library. They are a gift to each third grader for personal use in school or home.
The group picture includes standing in back, left to right: Bea Randall, president of the Arlington Friends of the Library; Sue Weiss, president of the Arlington Kiwanis Club; Dr. Kris McDuffy, Superintendent of Arlington Public Schools; Diane Kirchner-Scott, Arlington School District Executive Director of Teaching & Learning; Terri Bookey, Presidents Elementary School Principal. The dictionaries were distributed Tuesday October 27 to Mr. Jackson's 3rd graders, five of whom are pictured.
The goal of the Dictionary Project is: 'To assist all students in completing the school year as good writers, active readers and creative thinkers by providing students with their own personal dictionary.' This goal fits in with our goal of 'putting children first', as a primary function of all Kiwanis Clubs and the Friends of the Arlington Library. The two organizations have distributed 672 dictionaries to the three school districts this year alone.