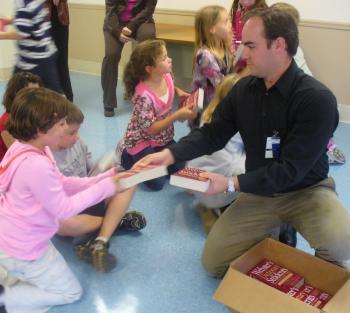 Biddeford-Saco Rotary Club gives dictionaries to local students
Rotarians from the Biddeford-Saco Rotary Club recently visited local third grade classrooms to talk to the students about the importance of literacy. While visiting the schools, the Rotarians surprised the students with a brand new dictionary to bring home and use.
Third graders at Biddeford Primary and St. James schools in Biddeford, C.K. Burns and Notre Dame de Lourdes schools in Saco and Jameson Elementary School in Old Orchard Beach all received dictionaries through the Rotary Club`s Dictionary Project. Rotary International participates in The Dictionary Project, a nationwide initiative designed to assist all students in completing the school year as good writers, active readers and creative thinkers.
`Our Rotary Club has a proud tradition of supporting our area students and schools,` said Frank Gooding, president of the Biddeford-Saco Rotary Club.
`Each year we provide thousands of dollars in scholarships to local, college-bound students. We sponsor a service club at Biddeford High School and an essay contest among the area`s middle school students. We are proud to start a tradition of supporting literacy among our young learners,` Gooding added.
Go online to www.biddeford-sacorotary.org for more information about the Biddeford-Saco Rotary Club.

Original Article available at :
http://www.keepmecurrent.com/Community/story.cfm?storyID=59227