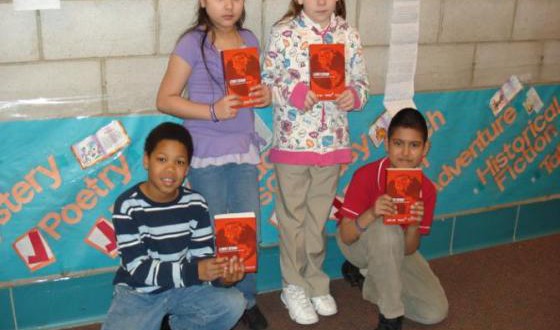 Dearborn Outer Drive has completed our Dictionary Project!
Dearborn Outer Drive has completed our Dictionary Project! The students and teachers in these photos are from Roberto Clemente Elementary in Detroit, where we passed out 147 dictionaries to third grade students. We received thank you letters from every student! We also gave 47 books to the Phoenix Academy in Detroit, and 16 books to City Mission, a charter school in the Brightmore section of Detroit. The many fine teachers at these schools were very appreciative of this gift for their students, and did lessons plans with the students on how to use them properly.
Special thanks to Mary French of the Dictionary Project, and Bill and Joan VanArsdalen of the Michigan District of Kiwanis for their donation of books to extend our project in Dearborn, and even further to Detroit schools. In Dearborn, we visited Divine Child Elementary, Sacred Heart Elementary, Emmanuel Lutheran and Guardian Lutheran Elementary, and Fairlane Christian Elementary. We continue to be impressed by the dedication of the teachers, and the enthusiasm and intelligence of the students. So far, we have visited 30 schools, and put 1,880 dictionaries into children's hands.