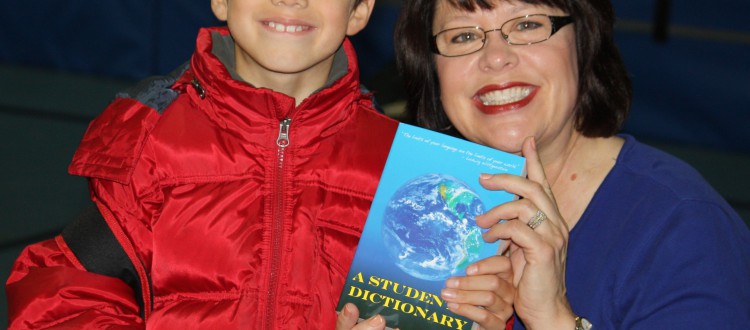 DuPont Lions Club donates dictionaries to area third graders
Did you know that the longest word in the English language has 1,909 letters in it? Or that Supercalifragilisticexpialidocious is the word to say when you don't know what to say? Or that Hippopotomonstrasesquippeadaliophobia is the fear of long words? These little snippets of trivia were just some of the items included in dictionaries given to SHSD third grade students by the DuPont Lions Club. Third grade students and teachers quickly thumbed through their new dictionaries while trying to find answers to trivia questions being asked by Bill Miller from the Lacey Lamplighters Lion Club.
Why give out dictionaries, you may ask? The answer might surprise you. Educators see third grade as the dividing line between learning to read, and reading to learn. As someone who values the written word and how to use it correctly, I rely upon my dictionary every single day. As the parent of a third grader, I witness daily the power of being able to read and the independence it fosters when a child can confidently look up a word and find out its meaning, and apply it to the world. So why not give a dictionary?
The Dictionary Project, a nonprofit program through the Lions Club is designed to get dictionaries into the hands of third-grade students nationwide. The Project was started in 1992 by Annie Plummer of Savannah, Georgia. That first year she distributed 50 dictionaries. As of 2008-2009 school year, 12.3 million children have received dictionaries thanks to sponsors who take part in this program.
"Every year we watch the Dictionary Project grow by expanding the pool of sponsors so more children can enjoy the benefits of owning their own personal dictionary. When we tell children this is your dictionary, write your name on the inside cover —- the expressions on the faces of these children is priceless. This project is fun and we look forward to being involved in this project for many years," said Miller.