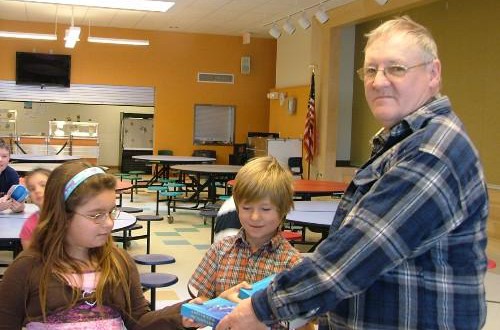 Garland Grange presents dictionaries to Ridge View students
On Wednesday, Dec. 8, several members of Garland Grange traveled to Ridge View Community School in Dexter to present dictionaries to the third and fourth grade students as part of the "Words for Thirds" Dictionary Project.
While this is the eighth year that Garland Grange has participated in the project with other local schools, it was the first Dictionary Day at the new Ridge View Community School.
The "Words for Thirds" Dictionary Project is a nationally based program which allows non profit organizations such the Grange to purchase dictionaries for local third graders to an effort to enhance learning and literacy.
More than 160 dictionaries were presented to students and staff. The students were all very excited to receive their new dictionary and asked many questions about the Grange. The children were given practice using their new dictionary by looking up the words "patron" and "husbandry" as Grange member Ernest Rollins explained that Grange members are also known as "Patrons of Husbandry."
The Dictionary Project is one of several community service projects performed by Garland Grange members. The organization is always looking for new people to help. For more information about joining the Grange or about the Dictionary Project, contact Garland Grange Community Service Chairperson Andrea Rollins at 924-6954.