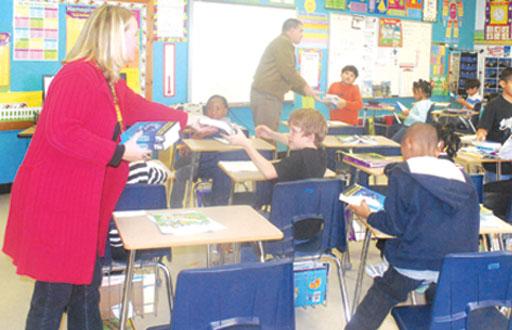 Gifting words, gifting knowledge
The Duplin Rotary Club has set out on a mission. Their mission is to provide dictionaries to third graders around the county.
On Nov. 19 Katie Harrell of the Duplin Rotary Club visited Warsaw Elementary School to hand out dictionaries to all of the third grade students and their teachers.
The dictionaries are free of charge to the students and are designed specifically for them using words that are found in their curriculum.
A Student`s Dictionary is not only a dictionary. It is also a source of information on various subjects studied in the third grade. These subjects include the Declaration of Independence, the U.S. Consitution, biographies of the U.S. presidents, and more.
The dictionary give-away is part of The Dictionary Project, a non-profit organization. The goal of the Dictionary Project is to `assist all students in completing the school year as good writers, active readers and creative thinkers by providing students with their own personal dictionary.` For more information on the Dictionary Project visit www.dictionaryproject.org.
The Duplin Rotary Club is not the only organization participating in this project, Wallace Rotary Club is also taking part in this.