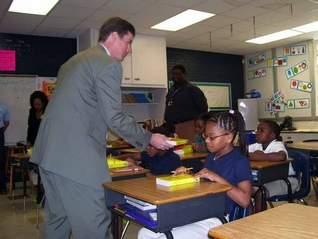 Hattiesburg-Sunrise Rotary Club donates books to students
The Rotary Club of Hattiesburg-Sunrise donated personal dictionaries to third grade students at Woodley Elementary School Thursday to help improve their vocabulary.
`These dictionaries don`t belong to the school or anyone else,` club member Tom Heanue told the students. `They belong to you.`
Heanue, four Rotary Club members, and state Rep. Toby Barker of Hattiesburg were at the school Thursday to present the dictionaries to students.
He said the club spent about $460 purchasing dictionaries for all third-grade students in the Hattiesburg Public School District, a project they`ve done for the past three years.
Woodley Elementary school has 65 third grade students and the Hattiesburg Public School District has 372.
He said dictionaries for students at other schools were delivered to the district office and will be distributed by teachers.
Heanue said their effort is part of the Dictionary Project – a nonprofit, nationwide program that partners with sponsors to help students become good writers, readers and critical thinkers.
Last year, more than 2 million children received a dictionary from sponsors within their community who partnered with the Dictionary Project. The group gives 95 cents of every dollar donated toward the purchase of dictionaries.
That partnership, Heanue told students, has helped the club meet its number one goal.
`Our main goal in Rotary is to do good things for folks like you, the youth of America,` he told the students.
`In the future, we`ll be the old people relying on you to take care of the country when you`re our age.`
Third-grade teacher Kristen Magee said the dictionaries will be vital in boosting the students` growing vocabularies.
`The dictionaries are important for them as far as communicating with each other,` she said. `But they`re also important when they`re using various words when describing how they feel or what they mean.`

Original Article available at :
http://www.hattiesburgamerican.com/apps/pbcs.dll/article?AID=/20080919/NEWS01/809190358/1002