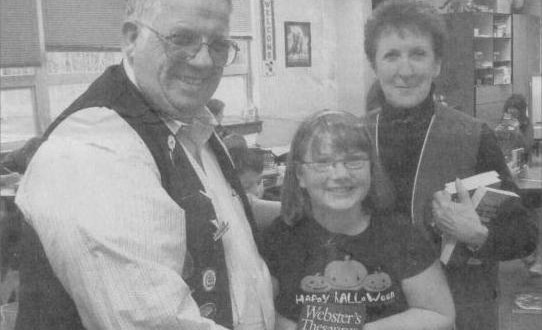 Hood Canal kids get free books from community
Thanks to donations from Union resident Betty Woods and the Hood Canal Lions Club, third- and fourth graders at Hood Canal School now have personal copies of Webster's Thesaurus for Students.
Last Friday, Lions Club members Don Minor and Ruth Flakus came to the school to distribute copies of the books to students in Kathy Gray's and Annette Stoddard's classes.
There were 35 books passed out to the students by Minor and Flakus and earlier, Woods gave out more than 30 thesauruses. In all, every student in the third and fourth grade at the school received a copy.
'It's fun to do,' Minor said. 'It was positive. There were a lot of thank-yous and many of the students were writing their names in the books.'
The Lions Club plans to make the distribution of free books an annual event. 'We'll certainly continue this next year and beyond. We're pleased to do it,' Minor said.
The student thesauruses contain more than 85,000 words, Minor pointed out.