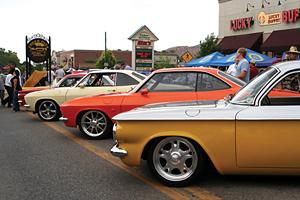 July Jamboree sees successful 11th year
The July Jamboree, a yearly street fair and car show on Cedar City's downtown Main Street, took place Saturday, July 12, drawing great cars and vendors and a large crowd.
Wayne Clark, Jamboree chair, said there were almost 200 cars. The cars and vendors completely filled the street from 200 North to Center Street.
The event started at about 4 p.m. and ended at almost 11 p.m. Clark said in that time, there were probably about 8,000 to 10,000 people who came through.
He said he really appreciated all the vendors, car owners and the public who came and made the event successful.
'I just think everything really makes it a great community event,' he said.
He said it is great for all ages, and is something families or individuals can come enjoy.
This was the 11th year of the Jamboree, and the first year the Cedar City Rotary Club has presented it. Clark said they will continue doing it, because they feel like it's a great community event.
This year's Jamboree was nice because it was overcast and not unbearably hot. It rained briefly about halfway through, but not long enough to drive away the car owners, vendors, or crowds, and it was almost perfect, Clark said.
'It was great,' he said.
Vendors offered items such as clothes, jerky, remote controlled toys, and more. There was a booth selling the Texas Twister Drink, and businesses like Breakin' Wind, Anderton Orthodontics, Cedar Builders Supply, All About Smiles and the Cedar City Review had booths.
Children could have their faces painted or get temporary tattoos, and one booth offered sugary treats and toys.
The Iron County Sheriff's Office, Cedar City Police Department, and Safety Solutions Coalition had a booth at the south end of the street where they showed off public safety vehicles and gave out information.
In the past, the food vendors have been lined up on Main Street along with all the other vendors, but this year they created something of a food court in the parking lot between Bajio and Lucky Buffet.
There were Navajo tacos, pizza, sandwiches, and much more available. Vendors were set up in a half circle surrounding tables and chairs, and local bands played on a stage on the east end of the parking lot. Entertainment included Mason's Jar of Jam, Dirty Bird, and The Clique.
'They did a great job,' Clark said.
It was nice for all the food to be in one place, and attendees could eat at tables and enjoy the music, he said.
Clark said there were many people who donated their time to help make the event possible, and one person in particular deserved thanks. Robert Robertson, of R-57 Electric, helped immensely with getting electricity to the food booths and solving problems they had the day of the event.
Rotary member Joel Hansen said Robertson is not a Rotary member, but was very willing to help and donated his time generously.
'He went way above and beyond the call of duty as a citizen to help us get all that stuff up and going,' Hansen said.
Clark said he appreciates everyone who helped, and there were many Rotary members who were wonderful volunteers.
'They just really made it happen,' he said. 'Without those volunteers you just can't put these types of things on.'

He said the Jamboree was a fundraiser for Rotary, and all the money raised will be used for projects such as the Rotary Centennial Veterans' Park and the Dictionary Project, through which they distribute dictionaries to Iron County third graders.

Clark said there are several wonderful service clubs in the area that should be recognized. Rotary is the oldest and biggest club in Cedar City, but other clubs like the Lions and Kiwanas keep busy and make positive contributions as well, he said.
'Together, we really make a great community,' he said.
The Rotary Club is now busy working on the Labor Day Car Show, which takes place in Parowan as part of the Iron County Fair. It is also a fundraiser.