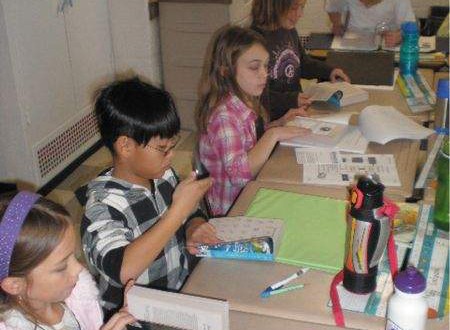 Kiwanis dictionary donation 'elementary'
It didn't take long for third graders in schools from Allen Elementary to Workman Elementary to discover all of the fun facts in their new dictionaries. In fact, all of the PCCS third graders were using their dictionaries to look up works like "service" and "volunteer."
Those words would be music to the ears of folks in the Kiwanis Club of Canton, which donated some 1,300 dictionaries to third graders in the 16 elementary schools in the Plymouth-Canton Community Schools district.
Joanna Uhl's class at Eriksson Elementary School was one of many in the district to receive complimentary dictionaries from the Canton Kiwanis Club.
According to club president Mark Ott, the distribution is done with books purchased through The Dictionary Project, a national organization supporting literacy by providing access to affordable books for students. The Kiwanis Club of Canton (formerly Plymouth Canton Breakfast) has supplied books to students for the last six years and during that time they have provided over 10,000 books to the children.
Ott said it's been a fun project for the club.
"The response from the students, parents, teachers and principals has been heartwarming," he said. "We enjoy the opportunity to make a difference in their ability to read, write and be successful students."
These books are specifically designed for the grade level, and as such the students can use them immediately, Ott pointed out. But definitions aren't the only thing included in these dictionaries. Also included are maps of the continents, biographies of the presidents, information on the 50 states, sign language and the longest word in the English language, which has 1,909 letters.
For information on The Dictionary Project or other Kiwanis service projects in the Canton community, contact Mark Ott at (734) 981-0460. The club meets every Tuesday at 7:15 a.m. at the Canton Coney Island.