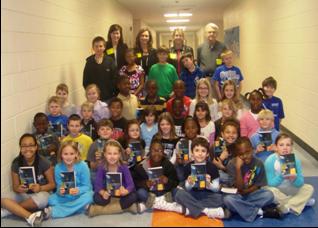 Lake County 3rd graders receive dictionaries from the Dyersburg Civitan and Kiwanis Clubs!
On Thursday, January 14, every 3rd grader in the Ridgley and Tiptonville schools were presented with their very own student's dictionary.
The Dyersburg Civitan Club in partnership with the Dyersburg Kiwanis Club donated the funds and resources to purchase and deliver 'A Students Dictionary' to the 70+ third grade students.
The dictionary, in addition to word definitions, also contains the Declaration of Independence, the United States Constitution, continental maps, information on all 50 states, presidential biographies, facts about the solar system, weights and measures, plus much more.
Dyersburg Civitans Russ Maher and Amy Schmitt and Dyersburg Kiwanians Shari Heathcott and Whitney Allmon traveled to each school and gave each child their own dictionary and shared with them some of the exciting things they could find inside. Every third grader is required to have a dictionary as they enter the fourth grade.
'We really get a good feeling seeing the kids light up when they receive their copy and start looking through the pages. We know we've put a tool in their hands that will help them through out their lives,' stated the Civitans and Kiwanians.
We are very grateful to Lara Kendall Principal Vanessa Garner, 3rd Grade teachers Janet Morris, Karen Carpenter and Technology Coach Suzanne Mathis, and Margaret Newton Principal Sherry Darnell, 3rd Grade teachers Annette Gooch, Sandy Wilson and Sandra Flowers for supporting this worthwhile effort for Lake County students.
The distribution of the dictionaries is part of the worldwide Dictionary Project.
Individuals interested in helping support this program can contact Russ Maher at 731-334-1168.