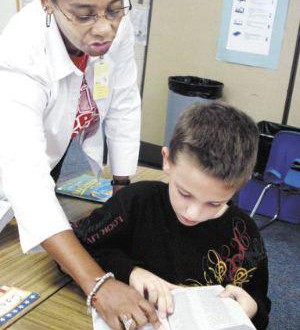 Learning how to spell 'grateful'
Third-graders at Malcolm Elementary School in Waldorf were anxiously awaiting the arrival of their new dictionaries Thursday, a tradition that the Waldorf Rotary Club has made famous at the school for years.
`It might have all the words that there ever were,` said Richard, a third-grade student at Malcolm.
The student dictionaries passed out by Rotary Clubs throughout the area to third-grade students do not boast every word in the world but Richard was excited to find out that the dictionary did contain the longest word in the English language.
`I can`t believe it`s a whole word,` Sierra said of the type of enzyme the name of which consists of more than a thousand letters.
Malcolm and 10 other elementary schools in Waldorf receive a visit from the Waldorf Rotary Club each year as part of its annual dictionary project.
`It`s an exciting way for [third-graders] to get those resources,` said Malcolm Principal Wilhelmina Pugh.
Rotary Clubs in other parts of Charles County participate in the annual dictionary project also and provide dictionaries for third-graders in their areas.
`It`s fantastic, it puts everyone on the same page,` third-grade teacher Cynthia Alley said.
`Some children have a lot of resources at home and some children aren`t that lucky,` Alley said.
Alley thanked Waldorf Rotary Vice President Connie Fuksa and community service Chairman Tucker Clagett for presenting the dictionaries.
Fuksa said this is her third year participating in the annual project. She said the children get more anxious each year as many of the third-graders have siblings who got the opportunity in years past.
As children were changing classes Thursday, third-graders were quietly talking about their new dictionaries. Some were still impressed with the biggest word and others were mentioning the section on sign language.
One student was so excited to tell another teacher about the dictionary that the teacher said he would try to have the students use their new dictionaries during his science class.
The Waldorf Rotary Club will continue to present dictionaries throughout the coming weeks.