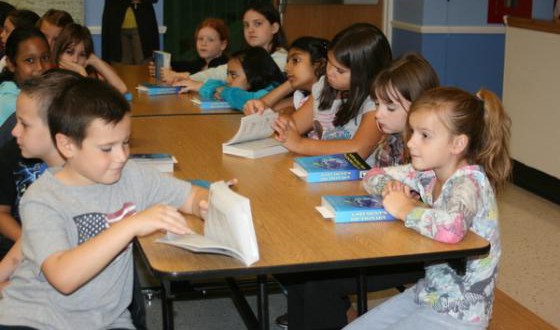 Local Rotary Club provides third graders with dictionaries
During the month of October, representatives from the Rotary Club of Westbury-Carle Place visited Parkway and Meadowbrook Elementary Schools to provide third-grade students with their own personal dictionaries that can be used throughout their school career.
The Rotary Club's Dictionary Project is an opportunity for students to expand their vocabulary, while aiding third-grade teachers in their goal to see all of their students finish the school year as good writers, active readers and creative thinkers.
A dictionary is perhaps the first and most powerful reference tool a student should own. Its usefulness goes beyond the spellings, pronunciations and definitions that it lists. It is a companion for solving problems that arise as a student develops his or her reading, writing and creative thinking skills.
Students benefit from an increased self-reliance and resourcefulness inspired by the maxim 'look it up in the dictionary.' Teachers benefit by knowing that their students will have consistent access to a tool for homework and in-class exploration.
A special thank-you goes to Rotarians Cathy Handy and Deb Smith for bringing the Dictionary Project to East Meadow students.