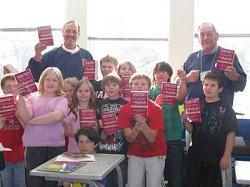 Peninsula Rotary Dictionary Project promotes local literacy
As part of their ongoing commitment to help students become good writers, active readers and creative thinkers, the Peninsula Rotary club gives each fourth grade student at Ocean Beach schools a personal dictionary every year. 'We actually go into the classrooms and hand out each dictionary which has the child's name in it, along with the Rotary 4-Way Test,' explains David George, who has been involved in the project since 2002. 'It's a way to introduce Rotary and what we do around the world, and one of our key projects is literacy.' The dictionaries are a gift to each student to use at school and at home for years to come.
Rotarian Keith Schwartz, chair of the dictionary project committee, noted, 'This particular club project is so rewarding, especially in the classrooms when you see the children getting the dictionaries. They have so much fun discovering the books and the wealth of information within.'
The dictionaries are child-friendly, with more than 32,000 entries, parts of speech, punctuation and pronunciation and dictionary guides. They also include a reference section containing information about the solar system, international flags, U.S. presidents, civics, sign language, Braille and more. Students benefit from an increased self-reliance and resourcefulness inspired by the maxim, 'look it up,' and many students use their dictionaries past the fourth grade.
The 4-Way Test is a Rotary cornerstone: 'Of all the things we think, say and do, is it the truth? Is it fair to all concerned? Will it build goodwill and better friendships? Will it be beneficial to all concerned?'
Carol Lynn Ockfen, retired educator and past-president of the Peninsula Rotary Club, says she considers the dictionaries an important part of efforts to promote literacy in the community. 'It's just a wonderful project,' says Ockfen. 'The teachers love it. The kids love it. Literacy to me is the key to the future.'
SW Pacific County Peninsula Rotary meets Tuesdays at 7:30 a.m., at the 42nd Street Café in Seaview.
For more information contact Club President Lynn Raymer at 665-2685 or go to www.beachrotary.org.