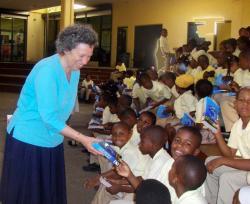 Gretta Moorhead is not a woman of few words. She is, in fact, a woman who thrives on giving words away.
All sorts of words, from abacus to zygote (a single cell resulting from the union of an egg and sperm), and you can use that abacus to add 1,900 to the 12,500 dictionaries that have been distributed to the territory's third-graders since Moorhead initiated the Dictionary Project Fund in 2002.
The 1,900 is the number of dictionaries which will be provided by the Community Foundation of the Virgin Islands to 53 schools. The project is a permanent fund at CFVI. Retired from a 30-year teaching career, Moorhead says childrens' literacy has always been front and center in her professional life.
Chatting on a recent Saturday, she was recovering from personally unloading 14 boxes, each containing 24 dictionaries, from the Post Office loading dock.
'We had to have all of them by Monday,' she explains, with a laugh. It's part of life.
For Moorhead, life on St. Thomas started in 1971 when she moved here to fulfill her dream of living on an island.
'I don't know why,' she says. 'Ever since I was about five years old, I've always known I'd live on an island. I didn't realize Brooklyn where I lived was an island.'
After graduating from Johnson C. Smith University in North Carolina, and teaching English at Brown Junior High in Washington, D.C., Moorhead says, 'I decided to make the move. I applied to schools in Hawaii, but all I got back was thanks, and aloha. Then I saw an ad in the New York paper for St. Thomas teachers, and I got the job and moved to my island.'
She says, 'I began teaching remedial reading at Nazareth, now Eudora Kean, and I loved it, loved the job and the people.'
In 1976 she married Justin Moorhead, president and owner of Seslia Securities. They subsequently moved to New York, and then Philadelphia, where they maintain a home as well as one on St. Thomas.
They have two daughters, both born on St. Thomas.
'We were in New York at the time, but we came home so Julia could be born here like her big sister, Sesyle.'
Now, about her project.
'About six years ago, I read in the Wall Street Journal about a South Carolina woman, Mary French, who had started a project on her own to place dictionaries in the hands of pupils in South Carolina,' she says. 'I knew right away that I wanted to create a similar project in the Virgin Islands. I called her to find out how she did it. I actually hounded her for information, and I've kept in touch since.'
Moorhead has become a board member of the national Dictionary Project.
And, along the way French and Moorhead have become friends. Moorhead is engaging. Her youthful manner, her head full of salt and pepper curls, the intent blue-green eyes, the inquisitive personality, the generous smile, can be captivating. But the trimming doesn't hide a determined woman, who in her soft-spoken way, gets things done.
After living on St. Thomas on and off for the last 40 years, Moorhead knew she had her work cut out for her.
'At first, I called every school to ask how many third-graders they had,' she says. 'It was difficult. People didn't know me, and it took me three days to call all the schools and establish the program. This year,' she says, 'it took me and hour and a half.'
'This was something I wanted to do,' she says. 'It's my way of giving back.'
The third grade is the ideal time to introduce children to words, Moorhead says. 'It's the time to capture and focus excitement and curiosity about language,' she said.
There was a bump in the road, however. When she received the first shipment of books eight years ago, she discovered the Virgin Islands weren't included.
'The dictionary lists only countries and states, and, of course, we are neither,' she says. 'Now we're included, but under countries.'
CFVI manages the dictionary fund, establishing it as a tax exempt, not-for-profit, while Moorhead does the fund-raising. She says it's about $3,000 a year, which she raises through 'friends, relatives, businesses, some who contribute each year.'
Civic associations and volunteers on St. Thomas and St. Croix help with the distribution of the books, which now go to all schools, public, parochial and private.
Rotary Club of St. Thomas Sunrise and the Rotary Club of St. Thomas II purchase and distribute dictionaries for the Jane E. Tuitt and Lockhart Elementary schools, respectively.
The Rotary Club of St. John purchases and distributes the books for their schools directly from the national Dictionary Fund.
At a distribution this week at E. Benjamin Oliver Elementary School more than 90 books were given to the assembled youngsters, who eagerly grasped their new treasures. One student volunteered his opinion on what he liked best.
'The words.'