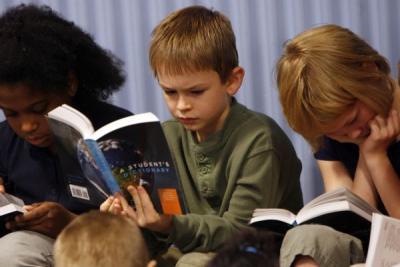 Rotary Club donates dictionaries to third graders in Salt Lake City
Nibley Park Elementary students now have the English language at their fingertips thanks to the Rotary Club of Sugar House. Each third grader at the Salt Lake City school received a dictionary from club members last week.
Rotary Clubs statewide have made it their mission to get dictionaries into the hands of every third grader in Utah through The Dictionary Project, a nationwide effort.
If you're a third grader, the Rotary Club hopes to find you, whether you're a student at a public, private, charter or home school. Rotarians have even been known to hike into the Grand Canyon, loads of dictionaries on their backs, to deliver the reference books to Havasupai children who live at the bottom, says Sugar House Rotarian Wally Brown.
'Educators say that up until third grade, they're learning to read,' said Brown, who helped deliver dictionaries to the more conveniently located Nibley Park Elementary last week. 'From third grade on, they're reading to learn.'
Added Nibley Park Principal Doug McLennan, 'Third grade is probably the first grade when they start to become an independent learner. The curriculum up through second grade is a lot more teacher-driven. From third grade on, it starts to become more student-driven.'
That's why owning a dictionary to keep in their desks or on a bedroom shelf is so big for eight- and nine-year-olds: They are beginning to seek information on their own.
One by one, students stepped to the front of the room to accept their copy of A Student's Dictionary . The students looked happy as they took the books back to their seats, where they flipped through the pages.
The paperback dictionaries include 32,000 words and definitions, maps, the U.S. Constitution, the Periodic Table, a multiplication chart, Roman numerals, Braille and sign language. It has a half-page of information on each president, including Barack Obama, a half-page on each U.S. state, and statistics about hundreds of countries.
Want some quick information about Moldova? Students need only flip to page 488, where they'll learn the Eastern European republic is slightly larger than Maryland and has a population of about 4.3 million.
The book even has a 'silly' part, Brown says. The last page features 'the longest word in the English language,' a 1,909-letter doozy defined as 'A Tryptophan synthetase A protein, an enzyme that has 267 amino acids.'
Third grader Tristan said he's excited about the maps, while Angel's favorite page is the one with the longest word.
After distributing the books at Nibley Park, Rotarian Harold Weight took the opportunity to emphasize the Rotary Club's 'Service before Self' motto through an object lesson.
'We have a problem here,' he announced to students before telling them there weren't enough dictionaries to go around. The third-grade teachers, he pointed out, were still empty-handed.
'How many of you are willing to give your dictionary away to your teacher?' Weight asked.
About half the kids raised their hands.
'Every hand should be up,' Weight said. 'You just got them. Now, what are we asking you to do? Give them away.'
Turns out, there were plenty of dictionaries.
Thinking of others before oneself, Weight explained, is what the Rotary Club is all about. Then, as a group, students looked up 'service' in their new dictionaries.
Owning a dictionary, McLennan says, is big for Nibley Park students. One focus of the school is making sure each student has a home library. The school donates books to students throughout the school year.
'A kid being able to hold something, and say 'this is mine' is really positive,' McLennan said.