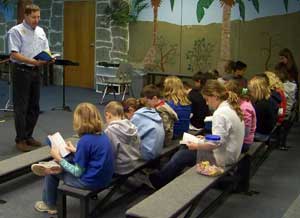 Rotary Club of Indian Rocks Beach donates dictionaries
The Rotary Club of Indian Rocks Beach recently donated more than 700 dictionaries to every third grade student at Anona, Bauder, Oakhurst, Ridgecrest, Indian Rocks Christian, St. Patrick's, Blessed Sacrament and Pinellas Preparatory Academy (fifth grade), as part of the Dictionary Project.
According to program chairperson Bill Atkinson, "Reading is one of the most important skills for a child to learn. It is the basis for all of the opportunities society has to offer. Each year we have tried to increase the number of students that we provide with dictionaries so that every child can enjoy having a personal dictionary. In some cases it may be the only book they own."
Club member Dan OrRico presented the dictionaries at several schools, showing students how to use a dictionary by asking questions and having the students find the answer. One of the favorites was "How many states are there in the United States?" which most students knew, followed by "How many capitals are there in the United States?" The answer may surprise you. Visit our website at www.irbrc.com and click on The Club for the answer.
The IRB Rotary Club meets weekly at 7:15 a.m. at Jimmy Guana's (inside the Holiday Inn), 401 Second St. For more information, call 403-4060.