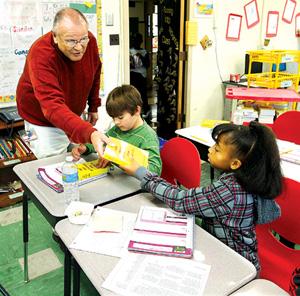 Rotary dictionaries spell help for fourth graders
Elementary students in Alton and Godfrey were at no loss for words Monday.
Fourth graders in public, private and parochial schools throughout each community received free, bright yellow dictionaries, thanks to the Alton-Godfrey Rotary Club.
`It`s an opportunity to be able to give something to students that they`ll be able to use through their school years,` Rotarian Bill Moyer said.
Moyer and Rotary member Mitch Cannell passed out the lexicons to four fourth-grade classes at West Elementary School.
Nowadays, online dictionaries and computer spell-checkers abound, and texting and Twittering have ushered in a new world of abbreviated spelling that makes English teachers cringe. However, Rotarians around the country still are managing to captivate a generation with the old-fashioned learning, too.
It didn`t take long for the students in Paula Fritz`s class to start looking up words once they had the dictionaries in hand, either.
`Look up the word `dictionary` and tell me what it means,` Moyer said.
On student answered that the word dictionary means a reference book containing an alphabetical list of words with information. After several other definitions were read aloud, Moyer told the students the books were theirs to keep.
`Make sure to write your name in it,` he said.
After passing out the students` new learning instruments, Moyer talked to them about Rotary and what the organization does.
`We are a community service organization,` Moyer said.
West Elementary Principal Cynthia A. Schuenke said students get to see Rotary members in `action` when they pass out the lexicons.
`I think this is an excellent program, and it teaches the students about what a community service organization does,` Schuenke said.
Alton-Godfrey Rotary Club members delivered about 1,000 dictionaries to students at schools in both communities Monday morning. The club takes part in the Dictionary Project, which is a national program that has been adopted by civic organizations around the country.
According to the Dictionary Project website, more than 1.9 million dictionaries are donated annually to students nationwide by various corporate, individual and club `sponsors,` who purchase the books at $1.25 a copy.
Moyer said the goal of the program is to assist students in completing the school year as good writers by providing them with their own personal dictionaries.
`This is the first dictionary that some students will own,` he said.
Moyer said he has seen several high school students who received dictionaries in grade school still carrying them around. He said that Rotary Club members reach out to high school-age students through its Interact Club.
He said although Rotary does quite a bit for the community, this program probably is the first encounter most students will have with the organization.
`It makes them aware of service and Rotary,` Moyer said.