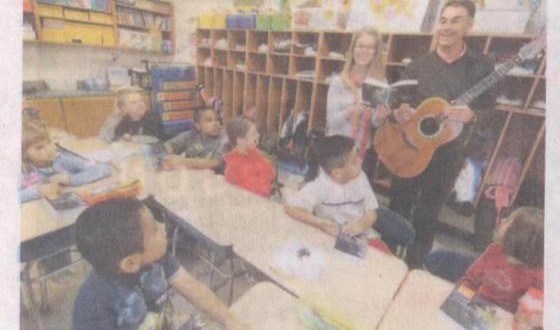 Students get dictionaries thanks to donor and help from Gaston School of the Arts
Look up the word `benevolence` in the dictionary and you might not find mention of the Gaston School of the Arts, but thanks to volunteers with the group and an anonymous donor, third-graders in Gaston County Schools will have an important learning tool to keep.
Each year members of the Gaston School of the Arts Board of Directors take time out from their busy schedules to hand deliver the dictionaries to classrooms in schools across Gaston County.
And some of the board members like Royce Robinson share their artistic talents during their visits with the children.
Robinson, a musician and songwriter, takes advantage of the opportunity to stress the importance of learning and staying in school. One of his favorites is a song teaching children to learn a new word every day. The best part of his visit is he shares his message through songs that have children singing along and tapping their feet.
In this day of spell check on computers, an anonymous donor wanted to make sure the students had dictionaries they could use as they did their schoolwork. More than 2,000 dictionaries are given to third-graders each year.
It`s all part of The Dictionary Project – founded in Charleston, S.C., to help improve literacy and encourage learning in young students.
Each year, the local anonymous donor, also a supporter of the arts, asks the Gaston School of the Arts to help distribute the dictionaries and to promote the school`s arts classes. The project started in 2002.
Helping out with the project are staff members from Gaston County Schools who help put labels in the books and other tasks to make it all possible.
`Computer `spell check` is great,` said Gaston School of the Arts volunteer Suzy Hannon. `But when it comes to really learning words, there is no substitute for the dictionary.`
Gaston School of the Arts is a non-profit organization and an affiliate receiving funds from the United Arts Council of Gaston County.