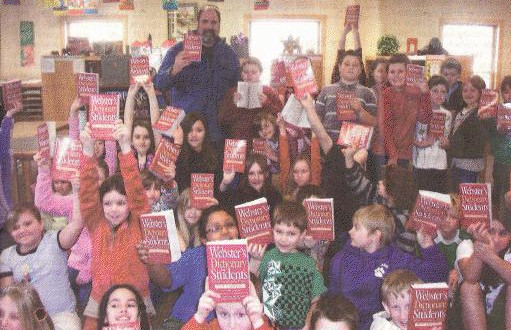 They can find a word to express appreciation
In these days of laptop computers, electronic media of all types, and spell checks, it is refreshing to see children excited about something such as a dictionary.
That was the case last Friday when representatives of the Wilson Grange # 321 presented 50 dictionaries to third graders at Academy Hill School.
Continuing a program that started in South Carolina in 1995 and was conducted locally by the Farmington Grange last year, the literacy effort has grown to include a goal of making sure all third graders in the U. S. receive a dictionary, with the help of local sponsors such as the Grange.
The pocket book, Webster`s Dictionary for Students, was presented Friday by Gary Krauss, Master of the East Wilton Grange. The Farmington Grange also planned to present dictionaries on Monday to other schools.
Inside the covers of these dictionaries is a tag that reads, `Your Education is Your Future.`
`A pocket dictionary may be a small thing, but it is a powerful tool to help `look it up` when you need to know how to spell, how to pronounce, or what a word means,` Krauss said. `This book is a really helpful thing and you don`t have to plug it in,` he stressed to the third graders.
It also is seen as a little assist to parents who may have fallen on economic hard times and won`t have to privately purchase a dictionary for their child.
Leslie Kaiser, an Academy Hill third grade teacher, told the students that they will find themselves relying on it heavily, and even more so when they enter fourth grade. `Keep it in a safe place in your rooms. You will use it a lot as you go through school,` she added.
One student noted, `I need a dictionary to help me spell words for the stories I write.` Mrs. Kaiser responded, `That`s the whole point.`
Over 12,278,717 children have received a dictionary thanks to the generosity of sponsors who have participated in The Dictionary Project. Sponsors provide a dictionary for the children in their community each year, so they can enjoy the benefits of a large vocabulary.
Some 2,488,454 dictionaries were given to students nationwide in 2009 as a gift from people who live in their town.
The Dictionary Project is a 501(c)(3) nonprofit organization. The goal of this program is to assist all students in completing the year as good writers, active readers, and creative thinkers by providing students with their own personal dictionary.
The dictionaries are a gift to each student to use at school and at home for years to come.
Reading is the most important skill of all. It is the starting point for all the economic and social opportunities this world has to offer, the organization stresses.
Educators see third grade as the dividing line between learning to read and reading to learn.