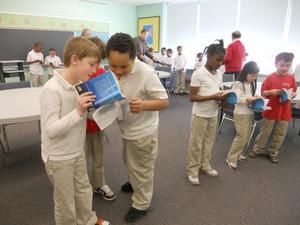 Dictionary Project brings Irondequoit Rotarians to St. John Neumann School
The Irondequoit Rotary Club presents dictionaries to each third grader in Irondequoit schools each year.
Club members made their annual stop at St. John Neumann School, next to St. Ambrose Church on Empire Boulevard, last week.
During the visit, the Irondequoit Rotary members who presented the new books were even treated to an original song, about the importance of dictionaries, by the class.
They also received thank-you cards from each student.