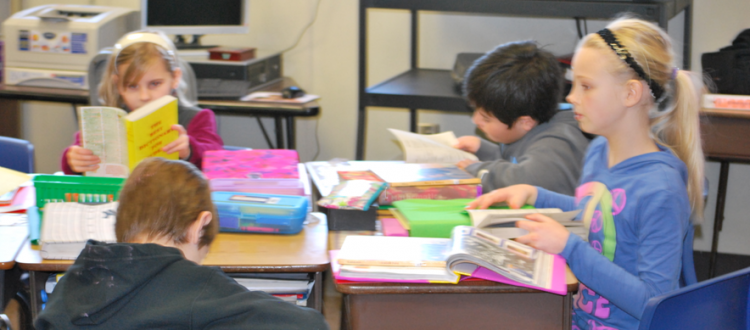 Jackson Rotary Club donates dictionaries to third graders
Each year, the Jackson Rotary Club participates in The Dictionary Project, a global initiative that puts dictionaries in the hands of third grade students around the world. The goal of the Dictionary Project is to assist all students in becoming good writers, active readers, creative thinkers, and resourceful learners by providing them with their own personal dictionary. Third grade is chosen because educators see third grade as the dividing line between learning to read and reading to learn.
At Jackson's Lucy N. Holman Elementary School, Jackson Rotary Club President Joe Ricardi was accompanied by school principal Theresa Licitra to hand out the dictionaries to third grade students, including those in Carolyn Bialecki's class. The students were given the dictionaries, which are theirs to take home and keep courtesy of donations from the Rotary Club. The club was one of 272 donors in New Jersey to participate. Overall this year, the program has donated nearly 2.5 million dictionaries worldwide.
The Rotary Club also distributed dictionaries to the Johnson, Crawford, Elms, Holman and Rosenauer schools in Jackson. "It is a privilege to be able to bring these books in once a year. " Ricardi said, "The heroes are the students and teachers. The Rotary is honored to be able to contribute the books." Other Rotary members and members of the community were at different schools on Wednesday and Thursday.
To learn more about the Jackson Rotary Club, visit their website at: http://www.jacksonrotaryclub.org/.