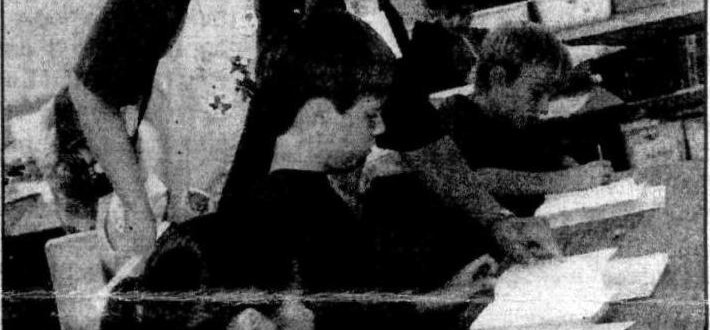 Third grade students receive dictionaries from North Bay Lions
The Portland North Bay Lions Club wants G-PISD third graders to "Look it up!" — in the dictionary, that is.
The Club donated 336 dictionaries from a non-profit organization called the Dictionary Project and was out at East Cliff Elementary on Wednesday, October 13 to distribute the first batch. On Thursday, October 14, they will be at T. M. Clark Elementary, on Friday October 15 they will be at Stephen F. Austin Elementary, and at W. C. Andrews Elementary on Thursday, October 21.
"The purpose of this gift is to provide the third grade students in our community with their own personal dictionaries to help create confident writers, active readers, and creative thinkers," said PNBLC Secretary Laura Cantwell.
"A dictionary is perhaps the first and most powerful reference tool a child should own," she added. It can be used at their home and in school for years to come. Its usefulness goes beyond the spellings and definitions. It is a companion for solving problems that arise as a child develops his or her reading, writing, and creative thinking abilities. Students benefit from an increased self-reliance and resourcefulness inspired by the maxim: "Look it up!"
Each student that is given a dictionary is encouraged to write their name in it to give them a sense of ownership as well as to help ensure it gets returned to them if it should be lost.
The dictionaries were given to local third graders because it was recommended by the Dictionary Project, which states that third grade is when children read to learn and begin using resource materials more frequently.
"We became aware of this program through a presentation of a Lions Club in Kingsville that's been doing this for a couple of years. We've donated to the elementary school PTOs in the past but thought a donation of this kind would reach more children directly," Cantwell explained. "It is the first time we've done this, but hopefully not the last."