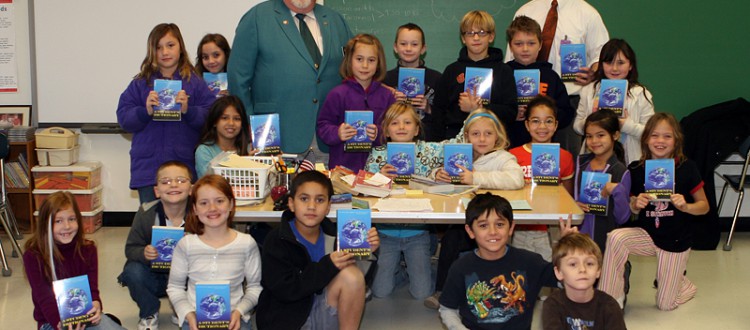 Watertown Elks Lodge distributes 1,285 dictionaries
Grandfather delivers dictionary to granddaughter
Starting from November 1, 2010 to November 9, 2010, the Watertown Elks Lodge #496 distributed 1,285 dictionaries to 3rd graders in area schools. Accompanying the dictionaries were drug awareness bookmarkers and coloring books. Dictionaries were given at 23 schools. Past State President Tim Kelly, along with PSVP John Gaffney, PER Don Ried, and member Bob Overton, took part in this program. The Watertown Elks Lodge #496 has been participating in the Dictionary Project ever since the New York State Elks Association became involved during the 2004-2005 Lodge year. As of this writing, the Watertown Elks Lodge has distributed 9,757 dictionaries.
The Watertown Elks Lodge #496 takes great pride in participating in this project and looks forward to doing this again for the next school year.
The Dictionary Project was founded in 1995 by Mrs. Mary French of Charleston, SC. The sole mission of this non-profit organization is to distribute dictionaries to as many third graders as possible in the 50 United States and territories. The Benevolent and Protective Order of Elks are one of many sponsors. Dictionaries have been distributed to every State of the Union, Puerto Rico and the Virgin Islands, as well as in several other countries. At this point in time, over 14 million children have received a dictionary thanks to the generosity of sponsors who have participated in the Dictionary Project.