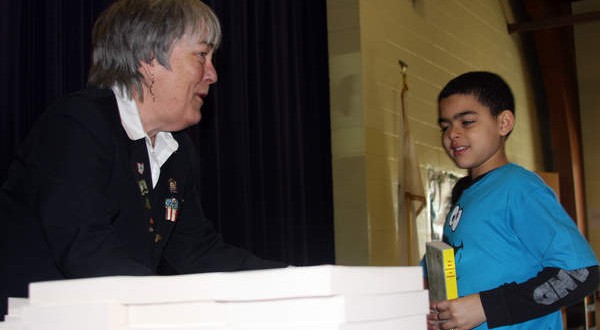 Elks donate hundreds of dictionaries to area students
The Wareham Elks Lodge donated more than 130 dictionaries to third grade students at the John W. Decas Elementary School on Friday as part of the Dictionary Project, a national effort to promote literacy by providing every child with a dictionary.
"[The students] love it," said Wareham Elks exalted ruler Susan E. Gifford. "They get so excited when they get these things."
The gift to the Decas students was the last round of donations for the Elks, who handed out nearly 450 bright yellow student dictionaries to third graders at Minot Forest Elementary, the Saint Margaret Regional School in Buzzards Bay, and the Peebles and Bournedale elementary schools in Bourne.
Decas Elementary principal Christine Panarese said she was grateful for the Elks' donation.
"These dictionaries really help our kids because not all of our kids can purchase them, but they all use them," Panarese said.
The students learn dictionary skills as part of the third grade curriculum and are able to use them during the long composition portions of the MCAS exams given in fourth grade.
"You're going to find some good words in there," Gifford told the cafeteria of third graders.
Student E.J. was very excited about his new dictionary.
"I really like them," he said with a grin. "They have all the big words!"
A page in the back of the dictionaries, which were designed to be easily read by young students, gave the children a list of the top five longest words in the English language.
Number one? Pneumonoultramicroscopicsilicovolcanoconiosis. Yup, that's 45 letters. It's a lung disease caused by silica dust. (E.J. said he'd have to work on learning how to pronounce that one.)
Before returning to their classrooms, the students worked on another big word made popular by Mary Poppins: Supercalifragilisticexpialidocious.
The donation was part of the Elks' ongoing commitment to young people, Gifford said. The organization donates scholarships and hosts a number of other youth-oriented programs.
For more information about the Dictionary Project, visit www.dictionaryproject.org.