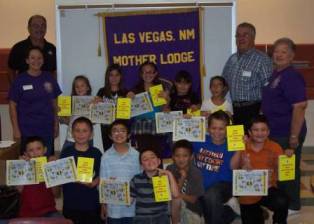 Las Vegas Elks Lodge # 408
Las Vegas Elks Lodge # 408 gave dictionaries to children in four New Mexico school districts, for a total of 12 schools. The Dictionary Project was founded in 1995 by Mrs. Mary French of Charleston, S.C. The sole mission of this non-profit organization – which we, as Elks, share – is to distribute dictionaries to as many third graders as possible in the 50 United States in our environs. Varying Service Clubs were the main thrust of sponsorship.
In the 2004-2005 Lodge year, the Benevolent and Protective Order of Elks became involved. Dictionaries have been distributed in every State in the Union, Puerto Rico and the Virgin Islands. At this point in time, over 1.5 million dictionaries have been distributed by Elks Lodges.