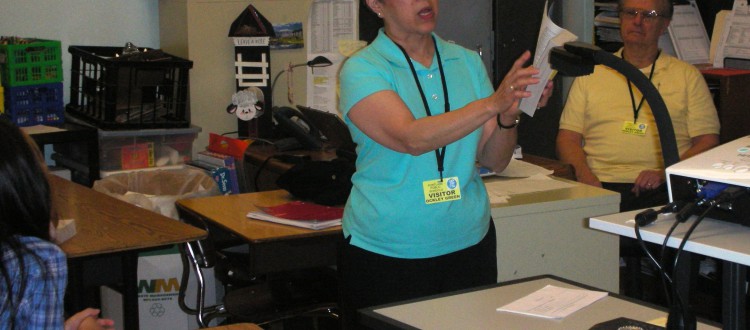 Oregon couple take gifts to school
My wife and I purchased dictionaries several weeks ago. We distributed them to the students in the 3-4 combined grade class in which my wife had been volunteering. The school was Ockley Green in NE Portland. In addition to the 3-4 combined class, we distributed them to a class of special needs children at the same school.
We gave a dictionary to each child in the class, one child at a time. We distributed 25 dictionaries in this class and 8 in the special needs class. The children were excited to receive them, but the teacher, I believe, was even more excited than the children. We had intended to distribute them to a second section of the 3-4 grade at Ockley Green but, when we went to the classroom, we learned they had already received them from a friend of that room's teacher.
The photo of me holding the large heart shows a "thank you" card we received from the class a couple of weeks after our delivery of the dictionaries. A sample of the messages written on the card:
"Thank you Sensei for the dictionarys. I especially liked the sign part so thanks. From Alisha." "Sensei" is the title for "teacher" in Japanese. My wife is a Japanese American.
"Thank you Ms. Sensei. thank you for the dicshonary." That child obviously didn't use hers to write the note.
"Thak you Fru The DICTionaRy" Nor did this one.
"Dear Phill and Yont Sensei, Thank you so much For the dictionaries. I love them. They are so help full. I wish you could come back soon. Wish you good luck. Love, Arlette"
"Thank you Phil and Yont Sensei for giving us the dictionaries. I use it a lot of times. Love, Sam."
We had purchased more dictionaries than we ended up distributing to the children at Okley Green. Part of that was intentional because of the minimum purchase requirement. As had been planned, many of the excess dictionaries were subsequently distributed to adult students in the ESL class we have been teaching on Saturday mornings as a ministry of our church.