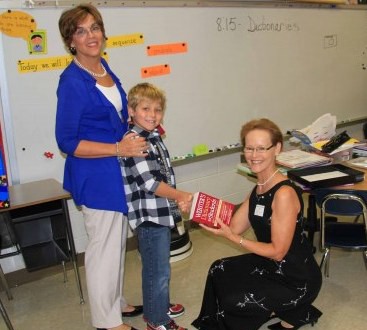 Making a difference in Rotary–The Dictionary Project
Rotary means many things to many people and one of the beauties of Rotary is the fact that each club does something unique to address needs in their community. Our club, the Franklin Breakfast Rotary in Franklin, TN, is no different.
Rotary has been involved with literacy for decades. Our club has been involved with literacy for as long as I have been a member and our first attempts at dealing with literacy involved giving scholarships for college-bound students in our community. A few years ago our president suggested that we undertake a dictionary project where we would give dictionaries to 3rd-grade students here in the city of Franklin. I know that this is at least our third year of distributing dictionaries, and we may have done this even longer.
One of the interesting parts of the project involves how we distribute the dictionaries. Not only do we give each 3rd grader a dictionary, but we also have a label inside the front cover with our club name, the 4-way test and their first name.
We distributed to our first school today here in Franklin by giving away dictionaries to students at Poplar Grove School. After the distribution we spent time with the children giving them words to look up and learn the definition of. The young boys and girls seemed to really enjoy this.
You can really never do enough for literacy in your community. I don't care where you live, there is always more to do.
It makes me feel good to see the smiling faces on these young boys and girls as they receive one more tool to enhance their learning. It may not be the most high-tech tool they have, but the battery will never go bad and it will still function if it gets wet.
I suggest you do the same things we recommended for these young people. Learn three new words each day. You will be surprised at the difference it will make.