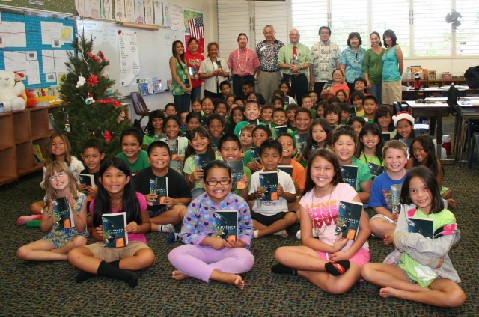 Aiea third graders to receive the gift of words from Pearlridge Rotarians
The Rotary Club of Pearlridge is all set to make the first of five free dictionary presentations to Pearl City and Aiea third graders as a part of the Hawaii Rotary District 5000 Dictionary Project.
The following schools have been selected to receive free dictionaries for the 2011-2012 school year:
Momilani Elementary, Lehua Elementary, Palisades Elementary, Waiau Elementary and Webling Elementary.
Momilani Elementary School third graders will be the first to receive their free dictionaries next Friday, September 23.
The annual Hawaii Rotary District 5000 Dictionary Project falls under the Rotary's Youth Services and Literacy Programs. The objective is to encourage the students to use their dictionaries so that they will be able to use the English language effectively and to learn the importance of understanding and spelling words correctly.
This year, the Rotary Club of Pearlridge will incorporate the Rotary International's "Service Above Self" and the Principles of the "Four Way Test".
1. Is it the truth;
2. Is it fair to all concerned,
3. Will it bring good will and better friendships
4. Will it be beneficial to all concerned.
The "Four Way Test" has been placed in each dictionary the third grade students will receive from Rotary Club of Pearlridge presenters.
"This is an exciting year as the club decided to take the effort one step further," said Community Service Chair, Keith Matsuda. "We'll also be helping educate our school children about being good citizens in our communities and supporting the third grade Teachers by providing incentives in the form of savings bonds to be awarded to each school's "Citizen of the Year." The awardee will be determined by his/her ability to best exemplify Rotary's "Four Way Test" throughout the school year."
The Rotary Club of Pearlridge is once again honored to kick off the Hawaii Rotary District 5000 Dictionary Project in the Pearl City and Aiea communities and to experience the smiles and excitement of the third graders when they receive and open their very own dictionaries for the first time. The introduction of the "Four Way Test" will guide them well into their futures.
"We hope, in the process, these four simple guidelines will help our school children improve their relationships with others and become better citizens," Matsuda said. "If they also benefit by our unwritten fifth rule and have "fun" in the process, even better!"