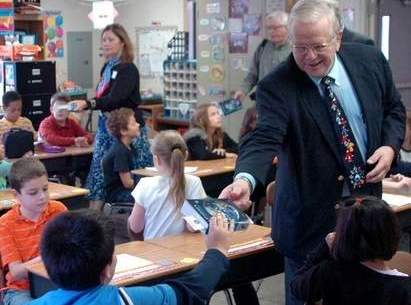 Dictionary Project at Pocono Elementary Center
On Tuesday, the Kiwanis Club of the Poconos-Daybreak distributed 125 dictionaries to students at Pocono Elementary Center in Tannersville, PA. Richard Wallace, board member of The Dictionary Project, presented the dictionaries to the children.
The Kiwanis Club annually gives out dictionaries as part of a worldwide project to 'give the gift of knowledge' to students. Since 1995, more than 15 million children have received dictionaries across the country, distributed by public service organizations like the Kiwanis Club.