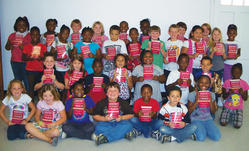 Marked Tree Rotary gives dictionaries to third graders
Marked Tree Rotary Club presented dictionaries to third graders at Marked Tree Elementary, Tyronza Elementary and Lepanto Elementary last week as part of The Dictionary Project, a program the club has participated in for the past eight years.
The goal of the program is to assist students in becoming good writers, active readers, creative thinkers, and resourceful learners by providing them with their own personal dictionary. The dictionaries are a gift to each student to use at school and at home. Each dictionary has the Rotary emblem on the inside cover and place for the student's name.
The Dictionary Project seeks to provide every student in the United States with his or her own personal dictionary through the help of local sponsors and volunteers.
According to The Dictionary Project's website, the idea for The Dictionary Project came in 1992 when Annie Plummer of Savannah, Ga., gave 50 dictionaries to children who attended a school close to her home. She continued to do this every year and raised enough money during her lifetime to buy 17,000 dictionaries for children in Savannah.
Bonnie Beeferman of Hilton Head, S.C., heard about Plummer's project and began selling crafts to raise money to buy dictionaries for students in her community. By 1995, Beeferman was getting so many requests from teachers to be involved in the project that she wrote a letter to the editor of the Charleston Post and Courier explaining the project and asking for someone to help meet requests for the Charleston area. Mary French realized providing dictionaries to all the students in Charleston would require serious fundraising, so she and her husband, Arno, started a nonprofit association in 1995 which became The Dictionary Project.
The original goal of The Dictionary Project was to provide dictionaries to all the third grade students in South Carolina every year, a goal they achieved in 1999. In 2002, The Dictionary Project went national and expanded its mission to include students in all 50 states. Today, individuals, businesses, and civic organizations participate in the program and give dictionaries and other reference books to children in all 50 states, the Virgin Islands, Puerto Rico, three Canadian provinces, and more than 15 other countries throughout the world.
To date, over 15 million dictionaries have been distributed to children. The Marked Tree Rotary Club has been participating in the project for the past eight years and had given out 912 dictionaries as of last year. Rotarian Bill Stanley said the dictionaries they distributed last week puts them well over 1,000.
© Copyright 2011 Poinsett County Democrat Tribune. All rights reserved.