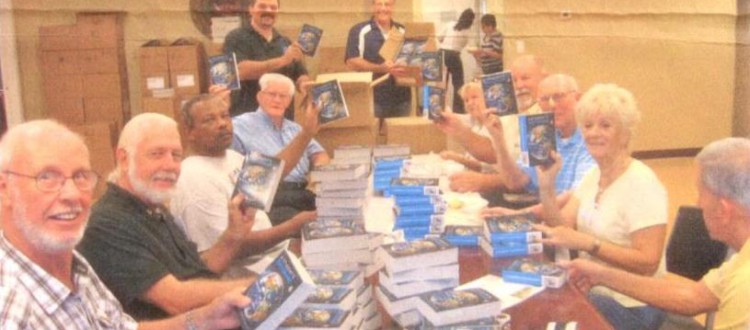 Pompano Beach-Lighthouse Rotary Club prepares for project
Every year when school starts many families in the low income class with small children do not have enough funds to pay for lunch. So the Government steps in and offers free meals or reduced-cost lunches. These same families in many cases do not have the money to buy school supplies like backpacks, pencils and paper for their students. Again they need help; this time the teachers or the schools help out by buying these needed items so their students can learn. But this is not the end of the needs. Many families cannot afford to buy the basic needs to learn such as a dictionary.
This is where the Rotary Club of Pompano Beach Lighthouse has stepped up. The third grade is the
beginning of the learning cycle.
This year the club has purchased 1, 824 A Student's Dictionary for all of the third graders in 14 public elementary schools in Pompano Beach, Lighthouse Point, Coconut Creek and North Lauderdale. The club applied for and received a Rotary Simplified District 6990 Grant to cover half of the costs.The club of 15 active members were assisted by several visiting Rotarians and a few friends of Rotary. A meeting date was used to identify each book with a Rotary decal and a rubber stamp with club's name. This was accomplished in about an hour with each of the books from 76 boxes, 24 in each. The work was done at the Sunshine Health Center, whose Executive Director, Dale Gibson, is a Rotarian. The members were divided into teams of two and three. Each team will deliver the books to two schools and hand each third grader a dictionary, which they can keep.
Schools include: Park Ridge, Norcrest, Tedder, Palmview, Cresthaven, Pompano Beach, Sanders Park, Robert C. Markham, McNab, Cypress, Charles Drew, Broadview, Coconut Creek, and Tradewinds.
This is one of two hands-on major projects PBL Rotary completes as part of their Community Service Area. This is the third time for the Dictionary Project.