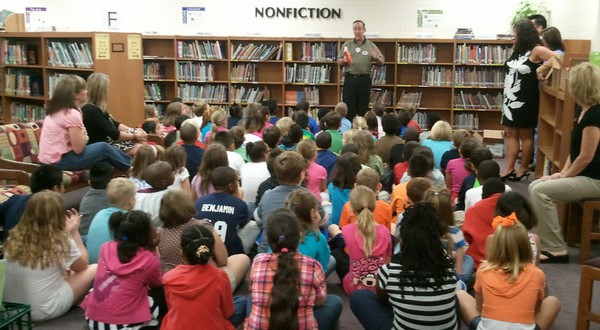 Rotary Club donates dictionaries to third graders
In hopes of increasing Cartersville Elementary School students' reading and writing abilities, Rotary Club of Etowah gave the books as part of a nationwide dictionary project.

Rotary Club of Etowah recently donated 360 dictionaries—one for every third grader—to Cartersville Elementary School. As part of a nationwide program called The Dictionary Project, Rotary Club of Etowah made this donation as a way to assist students in their reading and writing abilities.
Ron Dempsey, service project coordinator of Rotary Club of Etowah, spearheaded the project and gave a brief presentation to each of the third-grade classes when the dictionaries were handed out earlier this week.
"Another Rotary Club I was in participated in The Dictionary Project a few years ago, and I saw how beneficial it was to students, and so I wanted to get Rotary Club of Etowah involved in the project," Dempsey said in a press release. "Third grade is a crucial year in the eyes of many educators when it comes to learning to read and write, so what better way to assist with this life-long skill that is necessary to succeed, than to give each third grade student a dictionary. All of the students—and teachers—at Cartersville Elementary School were very excited about the donation and eager to put their dictionary to good use. In fact, the 'Canes Quest' trivia question of the week was about guide words—something a dictionary was needed to answer."
Implemented in 1995, The Dictionary Project has helped to provide more than 15 million children with dictionaries all over the United States. The mission statement is: "The goal of this program is to assist all students in becoming good writers, active readers, creative thinkers, and resourceful learners by providing them with their own personal dictionary. The dictionaries are a gift to each student to use at school and at home for years to come. Educators see third grade as the dividing line between learning to read and reading to learn, so we encourage our sponsors to give dictionaries each year to children in the third grade."
Founded in 2002, Rotary Club of Etowah meets each Tuesday at 7:30 a.m. at Barbecue Street in West End Commons. Like all Rotary Clubs, the purpose is to help community leaders get involved in their communities, connect with other professionals, share their time and experience with young people, help in the mission to eradicate polio, and use skills to help others.
For more information, visit Rotary Club of Etowah's website.